Every time one sits down to pray, the Lord is there. The encounter is new, filled with grace, love and mercy. It is a time to be healed, strengthened, and transformed.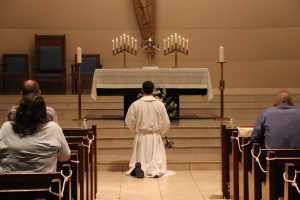 This idea of creating new encounters with the Lord was the purpose behind a series of seven evening sessions in late January to mid-February called "All Things New: An evening of praise and worship, Eucharistic Adoration and Confession."
Presented by the Diocese of Venice Office of Evangelization, the theme of the evenings was from the Book of Revelations, "Behold, I am making all things new." (Rev 21:5)
"This is the best place to be," explained Joshua Mazrin, Director of Evangelization during the Feb. 11, 2021 gathering at Incarnation Parish in Sarasota. "Sitting here, before Our Lord and the Blessed Sacrament on the altar is the greatest place to be; save for the Holy Mass; it where we are supposed to be; where we are meant to be tonight."
Noting that there are many obstacles in the world which can create distance in our relationship with the Lord, Mazrin said that opening our heart while in His Presence will allow the Holy Spirit to cultivate and till the soil so that His Graces will be accepted.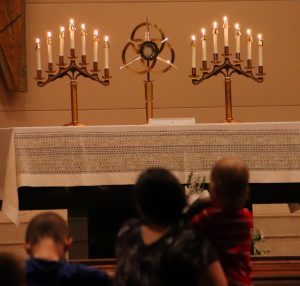 Father Eric Scanlan, Administrator of Incarnation Parish, hosted the Feb. 11 evening and said the theme was appropriate during a time when many see things that they feel are not right, make them angry or upset, they feel unjust or stressed, and they question where the Lord is in the world.
"Every time we join together the Lord comes to be with us,' Father Scanlan said. "Our God is a God who makes all things new."
He explained that every time we come together to pray with Him or receive the Eucharist, it's a new encounter of God's grace, love and mercy. Just as every time we go to the Sacrament of Confession, it is a new experience with God, never the same.
"Each prayer and time before the Lord are a new opportunity for the Lord to heals us, strengthen us and transform our hearts," Father continued. "Allow the Lord to make your heart new. Allow Him to love you. Allow Him to take away the stress, anxiety, doubts, anger of the outside world… This is an opportunity for the Lord to love you and heal you."
Brad Fournier was among the 75 or so who took part in the Feb. 11 "All Things New" and described how he tries to spend as much time in Adoration as he can. "This was a wonderful evening with so many focused on one spot in the church, the Lord present on the altar. That helped bring me into focus as well. I think we all need that once in a while. This happened just in time for Lent to begin and I feel refreshed and ready for that journey to begin."
Each evening of Adoration included prayerful music from Zander, a musician who performed during the 2020 Diocese of Venice Youth Rally. The other six evenings took place at the following Parishes: St. Elizabeth Seton, Naples, Jan. 26; Ave Maria, Ave Maria, Jan. 29; Our Lady of Light, Fort Myers, Feb. 2; Our Lady of the Angels, Lakewood Ranch, Feb. 3; St. John the Evangelist, Naples, Feb. 4; St. Joseph, Bradenton, Feb. 16.
For more information about upcoming events sponsored by the Diocese Office of Evangelization, please visit www.dioceseofvenice.org/evangelization.