Mooney Girl's Basketball reaches first State Final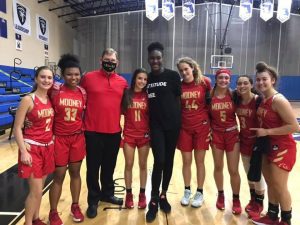 The Lady Cougars of Cardinal Mooney Catholic High School in the State Final! The team won the Class 3A State Semifinal over The Master's Academy of Oviedo on Feb. 24, 2021 at the RP Funding Center in Lakeland.  The Cougars will be competing in the State Final against Miami Country Day on March 5, a game which was postponed from Feb. 26. The team took the Class 3A Regional Championship over the Community School of Naples in Naples on Feb. 19. The Lady Cougars are 20-8 this season and appearing in their first State Final.
Retired priest dies
Father Carl A. Birarelli, a retired priest who assisted at Parishes in Sarasota and Manatee counties died on February 12, 2021, in Sarasota. He was 94. Born in Everett, Massachusetts, Father Birarelli was ordained in June 15, 1958 and was a Priest of the Archdiocese of Cincinnati until his retirement in 1994. Throughout his ministry he served in several parishes throughout the United States and Canada. Within the Diocese of Venice, he assisted at Our Lady of the Angels Parish in Lakewood Ranch, Ss. Peter and Paul the Apostles Parish in Bradenton and Incarnation Parish in Sarasota. He is survived by many nieces and nephews who were extremely devoted to him throughout his life and ministry. A Mass of Christian Burial was held Feb. 22 at Our Lady of the Angels. Burial followed at Palms Memorial Park in Sarasota.
Safe Haven Sunday March 7
Pornography is one of the leading causes of addictions, abuse, adultery, divorce, and even human trafficking: it is, in short, a pervasive evil inflicting grave wounds on our families. Pornography creates unsafe environments for children and confuses others about attitudes towards sex and marriage. It is a moral issue. For this reason, March 7, 2021 has been designated as Safe Haven Sunday in the Diocese of Venice. This day for awareness will give an opportunity to address the harmfulness of pornography in marriages, families, and culture, while providing helpful resources for all. Detailed information about the implementation of this program will be shared in the coming weeks through your Parishes. Join the Safe Digital Family Challenge by texting SECURE to 66866 to receive seven days of emailed digital tips to create a safe haven in your home. If you have any questions, please contact Carrie Harkey, Diocesan Coordinator of Family Life at harkey@dioceseofvenice.org or 941-484-9543.