The Diocese of Venice is mourning the passing of Msgr. Frank C. McGrath, who had been serving as Chaplain at Ave Maria School of Law in Naples since 2014. He died June 10, 2023, in Naples. He was 78.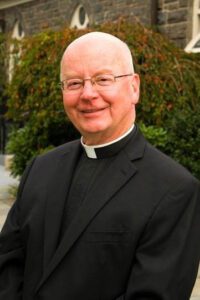 Born in 1944 in New Britain, Connecticut, and raised in Stratford, and he attended St. Thomas Seminary in Bloomfield, Connecticut, and St. Mary's Seminary and University in Baltimore, Maryland. He was Ordained to the Priesthood for the Diocese of Bridgeport, Connecticut, on May 9, 1970. For Bridgeport, the newly ordained priest served at several Parishes before being granted a leave of absence in 1977 to become Chaplain to the International Catholic Charismatic Renewal in Brussels, Belgium. Msgr. McGrath then served at the Word of God Community and as Pastor of a Parish in Ann Arbor, Michigan, within the Diocese of Lansing, before returning to the Diocese of Bridgeport in 1993. There, he served in two additional Parishes and as Director of Clergy Personnel. In 2007, he was named Chaplain to His Holiness.
Msgr. McGrath had a particular devotion to providing spiritual support to the men and women firefighters. He served as a Chaplain to fire departments in Michigan and Connecticut, as well as to Rescue 1 of the Fire Department of New York in New York City. After the collapse of the Twin Towers in 2001, he spent many hours providing spiritual consolation to those working at the site.
Upon arrival in the Diocese of Venice, Msgr. McGrath served as the Chaplain of the Ave Maria School of Law where he remained until his death.
Msgr. McGrath is survived by several aunts and cousins.
Locally, a Memorial Mass was held for Msgr. McGrath on June 16, 2023, at St. Agnes Parish in Naples. A Mass of Christian Burial was celebrated June 20, at St. Matthew Church in Norwalk, Connecticut, with Most Rev. Frank J. Caggiano, Bishop of the Diocese of Bridgeport, as the principal celebrant. Interment will be in the Priests' Circle of St. John Cemetery in Norwalk.
Please pray for the repose of the soul of Msgr. Frank McGrath and the consolation of his family as well as the students of the Ave Maria School of Law who will miss him. May his soul and the souls of all the faithful departed through the mercy of God rest in eternal peace.