Father Eugene J. McCarthy, a retired priest of the Diocese of Venice, passed away Monday, May 15, 2023, at the age of 89, in Venice. He is a former Pastor of San Marco Parish on Marco Island, Ascension Parish in Fort Myers Beach, and St. Raphael Parish in Lehigh Acres.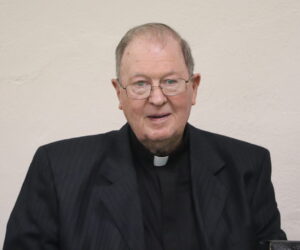 Born in Skibbereen, Ireland, Father McCarthy was ordained to the priesthood on June 19, 1960, in Dublin, Ireland, and served in the Diocese (later Archdiocese) of Miami. In his early years as a priest, Father McCarthy served as Parochial Vicar at Parishes in North Miami Beach, Hialeah, Boca Raton and Lake Worth.
In 1967, Father McCarthy was assigned as Administrator of St. Raphael Parish in Lehigh Acres (then part of the Miami Archdiocese) and then as Pastor from 1968-1971.
For the next 19 years (1971-1990), Father McCarthy served as Pastor of Ascension Parish on Fort Myers Beach. There he oversaw the renovation and expansion of the church, and the construction of a Retirement Center for Priests, which later became a convent for the Poor Clare Nuns. During this same time, the Diocese of Venice was established, and Father McCarthy was incardinated as a priest of the Diocese.
Next, Father McCarthy was assigned to San Marco Parish on Marco Island where he served from 1990 until his retirement in April 2004. While at San Marco, Father oversaw the construction of a new rectory for the priests and the Blessed Sacrament Chapel. In addition, Holy Family Chapel (1993) in Everglades City and then St. Finbarr Mission (2000) in East Naples were both established under the control of San Marco Parish. St. Finbarr has since become an independent Parish.
Visitation is at 11:45 a.m., Monday, May 22, at Epiphany Cathedral, 350 Tampa Ave. W., Venice. A Mass of Christian Burial will follow at 1:30 p.m. Burial will follow in Venice Gardens Cemetery, 1950 Center Road, Venice.
Please pray for the repose of the soul of Father McCarthy and the consolation of his family. May his soul and the souls of all the faithful departed through the mercy of God rest in eternal peace.