A group of dedicated Catholic women has answered the call of Christ as they imitate Him in how they live their lives each day.
These women are represented by the Venice Diocese Council of Catholic Women (VDCCW) serving as an example of a heartfelt commitment to serve the Church while dedicating themselves to being open to the Holy Spirit.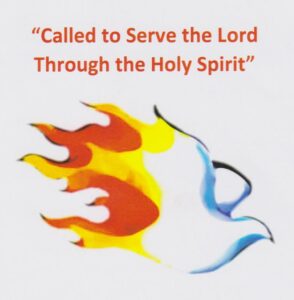 Each year members gather for a convention with the goal of unifying their efforts to do good for the benefit of all. With a theme of "Called to Serve the Lord through the Holy Spirit," the 37th annual Convention took place May 12-13, at the Embassy Suites in Fort Myers.
A central part of the gathering was the women participating in a celebration of the Mass which was celebrated by Bishop Frank J. Dewane. The Mass was concelebrated by Father Janusz "Jay" Jancarz, who is the VDCCW Spiritual Advisor and Pastor of Our Lady of Lourdes Parish in Venice.
Bishop Dewane praised the VDCCW for coming together and giving witness to the Faith by how they are believers and followers of Jesus Christ who are called forth to reach out to others.
"You respond to the question Jesus often asks of His disciples, 'Who do you say that I am?' by what you do each day, promoted by the Holy Spirit," Bishop Dewane said. "You do this by being an advocate for the Lord for the whole world in who you are as women of God. The Holy Spirit is alive and thriving in the VDCCW and you have to reflect upon that among yourselves, and you will grow from that."
The Bishop specifically thanked the members of the VDCCW for the important role the ladies play in the Diocese and in the Parishes.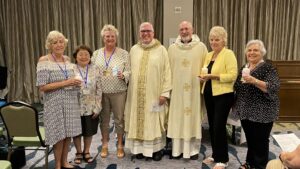 The VDCCW acts through its membership to support, empower, and educate all Catholic women in spirituality, leadership and service. Council programs exude Gospel values and serve the needs of the Church and society in the modern world. To exemplify this, the VDCCW is a strong supporter of the Diocesan seminarians and presented a check of a substantial amount to Bishop Dewane for the Diocesan Seminarian Fund.
Outgoing VDCCW President Josephine Weiss said the Convention serves to unify and inspire the members as they work throughout the year in support of the Catholic Church at the Parish, Diocese and national levels.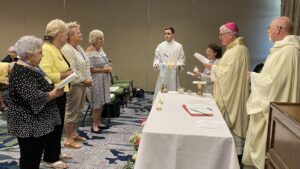 The women also learned about a variety of topics including a presentation on the Holy Eucharist, Diocesan Respect Life and Communications initiatives, and much more. A check was also presented to Catholic Charities, Diocese of Venice, Inc., from the VDCCW Hugs for Homeless Fund.
The Convention concluded with the installation of new officers: President Barbara Evans, President-Elect Katie Morris, Secretary Nancy Gorman, and Treasurer Rebecca Harper.