Knights honor clergy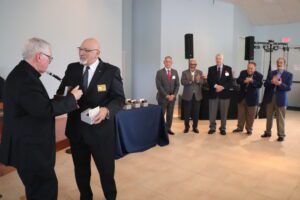 The Knights of Columbus of Saints Cosmas and Damian Council 13341 of Bradenton hosted a Clergy Appreciation Dinner on Aug. 12, 2023, at Our Lady of the Angels Parish in Lakewood Ranch. Among the honorees were Bishop Frank J. Dewane; Father Sebastian Szczawínski, Pastor of Our Lady of the Angels; Father Shawn Roser, Parish Parochial Vicar and Diocesan Vocations Director; Msgr. Joseph Stearns who is retired but assists at the Parish; Deacon Jack Milholland; and Deacon G. Thomas Harencher. The evening included dinner for more than 200 and each of the honorees was presented with a commemorative compass. Grand Knight Jerry Graceffo Jr. said it was appropriate for the Knights to honor the clergy who serve the spiritual needs of the faithful is many different ways.
High school welcomes new assistant director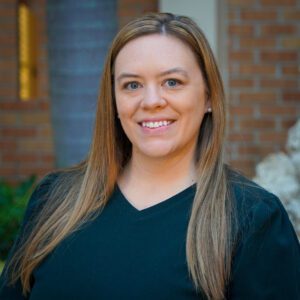 Bishop Verot Catholic High School has announced the hiring of a new Assistant Director of Special Events, Donor & Alumni Relations. Crystal Melton will lead Bishop Verot's events and alumni relations efforts as the school continues to have record enrollment and growth. Melton brings with her experience in the field of events, fundraising and community relations. Melton earned her bachelor's degree in Elementary Education, and a master's in Curriculum and Instruction. She previously was on the Verot School Board and the chair of the Curriculum & Academic Affairs Committee for the school. Most recently, she was a teacher and Director of Development at St. Andrew Catholic School.  Melton grew up in Alaska and Virginia, before moving to Florida in 2010 with her husband and their two children. Her daughter is a Verot Alum and her son is an 8th grader at St. Andrew Catholic School, and a future Viking.
Support our seminarians
Support, encourage and educate future priests through the Venice Diocesan Council of Catholic Women Seminarian Fund. Join the VDCCW in celebrating Priesthood Sunday on September 24, 2023, in a special and lasting way by sending your Parish Priest a Seminarian Fund "IN HONOR OF" card. This is a gift that keeps on giving. The Diocese is currently educating 13 men in various seminaries and a donation of any amount would be a great help (The donation amount will not be revealed to the recipient). To take part, please send your donation, made out to VDCCW Seminarian Fund (plus $1 to cover postage and printing) to: Cornelia Zaneƫti, Seminarian Fund Guardian, 5808 Gulf Drive, #204, Holmes Beach, FL 34217.
Early bird registration for the Marriage Conference
Registration is now open for the Oct. 21, 2023, Diocese of Venice "Together in Holiness" Marriage Conference, presented in partnership with the Diocese of Venice Office of Family Life and the St. John Paul II Foundation. This marriage enrichment conference will take place from 10:00 a.m. to 5:00 p.m. at St. John XXIII Parish, 13060 Palomino Lane, Fort Myers. All Catholic married and engaged couples throughout the Diocese of Venice and beyond are welcome. Grow together in holiness, learn to form your children in the Catholic Faith, enjoy a day of quality time with your spouse, witness dynamic presentations! The day will include the Mass and the availability of the Sacrament of Reconciliation. This special event is for all couples, engaged, newlywed or long married! On-site childcare will be provided. Early bird couple registration is $54, ($64 after Aug. 28). To register, please visit https://forlifeandfamily.org/events/th23-vnfl/. Please contact Carrie Harkey at harkey@dioceseofvenice.org for further information.
Catholic Charities event to benefit programs in DeSoto County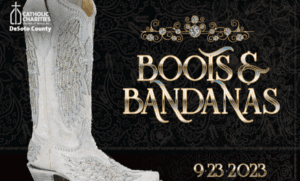 The 2023 Boots and Bandannas event to benefit the programs of Catholic Charities, Diocese of Venice, Inc., in DeSoto County will take place, at 6 p.m. Saturday, Sept. 23, 2023, at Our Lady of Angels Parish, 12905 SR. 70 E., Lakewood Ranch. Enjoy a fun night of great food, live auction, and live music by Andy Pursell and his band.  Kick up your heels for a great cause with programs such as a food pantry, farmworker and senior housing, youth and afterschool educational enrichment programs, financial and housing assistance and disaster response and recovery.  For more details, and to register for Boots and Bandannas 2023, please visit, https://one.bidpal.net/2023boots/welcome.
Red Mass for legal professionals to be held in Sarasota
The Red Mass, a medieval tradition of the Roman Catholic Church, is observed annually in the Diocese of Venice. The Red Mass will be celebrated at 5:30 p.m., Oct. 18, 2023, at St. Martha Parish, 200 N. Orange St., Sarasota. Bishop Frank J. Dewane, Bishop will be the main celebrant. A reception hosted by the Catholic Lawyers Guild (CLG) follows immediately at the Fr. Fausto Parish Hall. The first recorded Red Mass was held in the Cathedral of Paris in 1245. The popular name "Red Mass" refers to the traditional red vestments of the clergy and the judges when convened at the royal courts in Europe. Prayers at the Red Mass are offered to invoke the gifts of the Holy Spirit upon those who serve in law and the administration of justice. Hence, lawyers, judges, public officials, law enforcement officers, and law students are specifically invited to participate at the Red Mass, although everyone is welcome to attend. In the United States, an annual Red Mass is held in Washington, D.C., before the opening of the U.S. Supreme Court. Similarly, Red Mass is held at the start of the legislative session in Tallahassee. The first Red Mass in the Diocese of Venice was held in March 2008 at St. Martha. At the Red Mass, prayers are for wisdom, understanding, counsel, fortitude, knowledge, piety and fear of the Lord, to help us through these challenging times. For further information, please contact Atty. Paul Consbruck at 866-558-7285; 941-966-6706 or adoptfla@yahoo.com.