The Diocese of Venice, "Together in Holiness" Marriage Conference, presented in partnership with the Diocese Office of Family Life and the St. John Paul II Foundation, took place Oct. 21, 2023, at St. John XXIII Parish in Fort Myers and was a great success.

More than 125 couples, representing 31 Parishes, took part in this event which was intended to allow couples to grow together in holiness, learn to form their children in the Catholic Faith, enjoy a day of quality time with their spouse, and witness dynamic presentations. Many married couples brought their families, with nearly 50 children enrolled in childcare throughout the day. In addition to married couples, many engaged couples also participated.
The day included the Mass, celebrated by Bishop Frank J. Dewane, Exposition of the Blessed Sacrament and the availability of the Sacrament of Reconciliation.
One couple from Naples who has been married for 15 years with three children said they went to the event looking for a more Christ-centered focus on their marriage and they were impressed not only by the speakers, but by the supportive atmosphere the day offered. "It was wonderful. Each speaker offered something of value that will enrich us as a couple, and as a family going forward."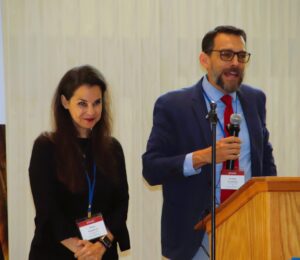 Bishop Dewane addressed the couples, and was impressed by the numbers and encouraged by their enthusiasm, particularly in a society in which marriage is viewed as almost countercultural, but in the faith context is supported by the Holy Spirit and the Grace of God.
"As couples, you can speak of that more eloquently than I can, because you live that commitment daily – day in and day out," Bishop Dewane said. "Know that the Lord sees the goodness you are – the witnesses you are for others. Each of you are called to open your hearts, minds, and souls to what it is that the Lord asks of you. Let the Holy Spirit have a role and presence in your lives; providing counsel, fortitude, and courage in your relationship; that element of truth. It is in this concept that the sacred covenant will never be broken, because it is what the Lord put before you."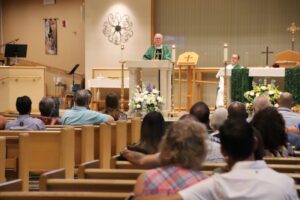 This year's conference theme was "Family, the Church in Your Home" and featured national speakers Haley Stewart and Greg Schutte, as well as local speakers Michael and Nancy Dauphinais.
The focus of the day was on the centrality of the Eucharist as a source of grace in married life, which fits well with the ongoing National Eucharistic Revival initiative of the U.S. Bishops.
What's Next
For couples who wish to continue enriching their marriage – whether or not they attended the conference – a "Together in Holiness" Formation series is being offered. The Formation series creates small groups of four to six couples who gather "to explore a particular theme based on the life, teaching and witness of St. John Paul II." At the local gatherings, couples share a meal, watch a brief video and have guided prayer, Scripture and discussion led by a St. John Paul II Foundation-trained couple. If you would like to participate in or learn more about the "Together in Holiness" Formation series, contact THFormation@forlifeandfamily.org.
To learn more about other Diocese of Venice initiatives in support of Marriage and Family, contact Carrie Harkey at 941-484-9543 or harkey@dioceseofvenice.org.