Throughout November, students at the 15 Diocesan Catholic schools rallied to collect thousands of food items which were donated to local food pantries just in time for the Thanksgiving holiday.
At St. Francis Xavier Catholic School in Fort Myers, the Junior National Honor Society organized the food drive with more than 4,000 items collected in during a two-week period. Meanwhile, at St. Andrew Catholic School students in Cape Coral donated 1,540 pounds of food. A similar food drive at St. Catherine Catholic School in Sebring garnered some 2,000 canned goods. These are just some of the impressive responses to a call for need in the area.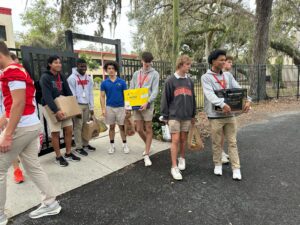 The Diocesan high schools were not to be outdone by their younger counterparts. Huge deliveries of food from Cardinal Mooney Catholic High School went out on Nov. 17, 2023, to four local food pantries. In addition, the school donated more than $1,200 in gift cards for use at area grocery stores. Similar scenes played out at St. John Neumann Catholic High School in Naples, and Bishop Verot Catholic High School in Fort Myers. Donahue Academy of Ave Maria Catholic School includes all grades and held a similar food drive.
Beneficiaries of the food collected by the students throughout the Diocese included the regional Catholic Charities, Diocese of Venice, Inc., food pantries, the Harry Chapin Food Bank in Fort Myers, All Faiths Food Bank in Sarasota, as well as individual Parish food pantries.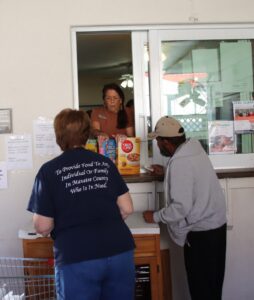 For example, one of the beneficiaries of the items collected at Cardinal Mooney was the St. Joseph Food Pantry, which distributes needed food to more than 1,800 families each month in Manatee County, or about 6,500 individuals.
Pantry Director Dan Friedrich said the demand from needy families for food has increased in the past year as the cost of items has skyrocketed. While donations go up during the holidays, the demand is there year-round.
The generosity of the families at the Diocesan Catholic schools will go a long way in helping those in need this holiday season.
While dry food donations are accepted at all food pantries, monetary donations are greatly appreciated as this money can be leveraged to purchase more items from regional food banks. To support Catholic Charities, please visit https://catholiccharitiesdov.org/donate. To support the St. Joseph Food Pantry, please visit https://stjoepantry.com/donate.