Students recognized for summer work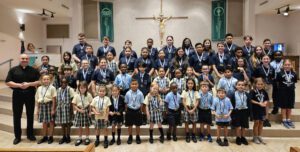 Students at St. Joseph Catholic School in Bradenton were recognized for taking part in two summer learning programs during an awards ceremony on Aug. 25, 2023. First was the recognition of students who participated in the IXL Summer Reading Challenge. IXL (from "I excel") is a math and language arts practice website for K-12 (subscription based). Students in grades one through eight used the IXL online individualized learning program to complete problems in math, language arts, social studies, science, and Spanish. IXL participants completed a total of 182,624 problems. Throughout the summer, the competition was very intense. The over-all top winner was Monica, who completed 16,560 problems, while 58 students were recognized for their participation. In addition, 72 students received recognition for their participation in a summer reading program.
Youth event held in Fort Myers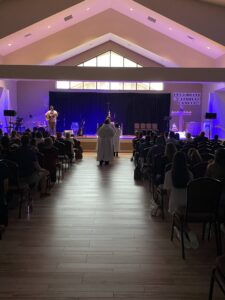 The St. John XXIII Parish Youth Council hosted a family event Aug. 27, 2023, in Fort Myers. Nearly 200 took part in this event which took place in Marian Hall and included a live performance by The Camp Veritas Band, dynamic speakers, and Adoration of the Most Holy Eucharist.
Students marked for leadership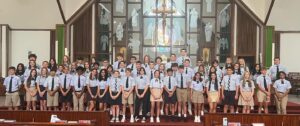 As is the tradition at St. Andrew Catholic School in Cape Coral, the eighth-grade students are brought forward during a ceremony where they take an oath of leadership. This ceremony took place following Mass on Aug. 24, 2023. Principal David Nelson administered the oath and then presented each student with a pin to mark them as St. Andrew Catholic School Leaders.
Police make fun visit to Naples school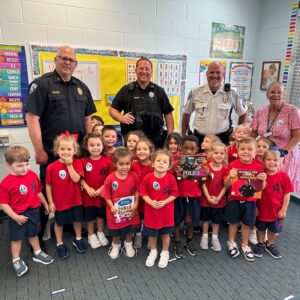 Members of the Naples Police Department stopped by to speak to pre-kindergarten students at St. Ann Catholic School on Aug. 25, 2023. Officers read to the students and answered questions as the students learned about how the police are there to serve the community as everyday heroes.
Students use physics during experiment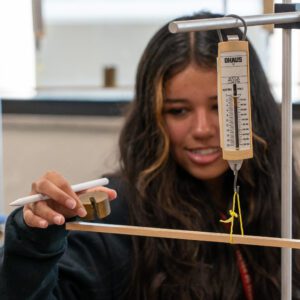 A physics class at Bishop Verot Catholic High School in Fort Myers used an experiment that would measure and interpret the forces acting on an object in equilibrium. The experiment: How do rope tensions relate to their weights and the weight of an object, such as scaffolding? The students worked on this exact question on Aug. 24, 2023, and their focus and comprehension were impressive.
Confirmation class begins in Fort Myers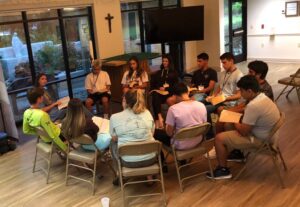 A Sacrament of Confirmation class at Our Lady of Light Parish in Fort Myers began on Aug. 27, 2023. During the opening session, participants took part in an open discussion on key questions of the faith, including: Do you view the Holy Spirit as more of a "who" or a "what"? Does this distinction change how you approach the Holy Spirit? Who or what is the Holy Spirit to you? These questions and more are the focus of the sacramental preparation during the coming months. The goal of the religious education program is to help the faithful grow in their knowledge and understanding of the Catholic faith and their part in the Universal Church.
Parish to host Oktoberfest
San Pedro Parish, 14380 Tamiami Trail, North Port, is hosting an Oktoberfest celebration on Oct. 13 and 14, 2023. On Oct. 13, the evening begins at 5 p.m. and concludes at 11 p.m., and will include an opening ceremony and music by The Boogiemen, and hourly races, as well as a beverage garden, and food favorites such as brats, burgers, hotdogs, perogies, Bavarian and hand-rolled pretzels, ice cream and homemade desserts. On Oct. 14, the doors are open 11 a.m.-11 p.m., and this is a Family Day; the event is free and open to all. Music includes performances by Beth Travers and Trop Rock, Bud Buckley, The Flashbacks, Shari Fink and the Mission Band, as well as an open mic. There will also be a Foam Party with inflatables, balloons, face painting, rock climbing, trivia, dunk tank, raffles, giveaways and more. Proceeds will support the Parish Restoration Fund. Sponsorship and vendor exhibits are available by calling 941-426-2500, or email events@sanpedrorcc.org.