A Cardinal Mooney Catholic High School junior repeated as Class 1A State Champion Nov. 6, 2021 at Sailfish Splash Park and Aquatics Center in Stuart.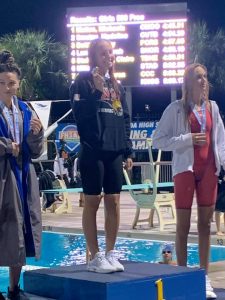 Michaela Mattes took the State Championships in the 500 Freestyle for the third year in a row and came in second in the 200 Individual Medley, proudly representing her Sarasota school.
Michaela took the 500 Freestyle with a dominating time of 4:45.51, more than 8 seconds faster than her nearest competitor. Her winning time earned her automatic All-American status with the National Interscholastic Swimming Coaches Association (NISCA). She was State Champ in the event as a freshman and sophomore.
In 200 Individual Medley, Michaela took silver with a time of 2:00.71, again earning All-American status. This was the third year Michaela medaled in the event, taking gold in 2020 and silver in 2019. In the 2021 finals, she trailed only one competitor who was a two-time defending State Champ in Class 2A.
Fellow Mooney student Daniel Krajewski also qualified for the state competition and participated in the boys 200 Individual Medley.
At the same event, Bishop Verot Catholic High School swimmer Marcos Egri-Martin broke two school swimming records while placing 6th in the 100 Breaststroke and 9th in the 50 Freestyle.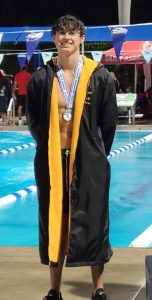 Marcos was also part of the 200 Freestyle Relay team which finished 16th overall.  The other Fort Myers swimmers on the relay team were Diego Corredor, Stephen Prendville, Alexander Price and Ethan Halter. Eleanor Bonds who finished 18th in the girls 1 meter diving competition after finishing 4th in the regional competition. An additional Verot competitor was Nicolas Scripcario, who swam in the 500 Freestyle.
Additional athletes from Cardinal Mooney, Bishop Verot and St. John Neumann Catholic High School in Naples and the Donahue Academy of Ave Maria Catholic School in Ave Maria will be competing in state cross country and golf events through Nov. 17.
Check out the next Florida Catholic for results or follow the Diocese at  www.facebook.com/DioceseofVenice to see updates throughout the weekend.