Diocesan Catholic high school teams and individuals excelled at the recent Florida State High School Athletic Association Cross Country Championships in Tallahassee.
Individually, Mackenzie de Lisle, a junior at Bishop Verot Catholic High School in Fort Myers, took home the Girls Class 2A silver with a 5K time of 17:52.2. In the same race, Allsion Dempsey, a senior at Cardinal Mooney Catholic High School in Sarasota, took the bronze with a time of 18:01.9.


Overall, in the team competitions, the Bishop Verot girls finished fourth, while the Cardinal Mooney girls placed 25th overall. The Verot boys also placed fourth overall. In the Class 1A race, the girls from St. John Neumann Catholic High School in Naples placed 22nd overall.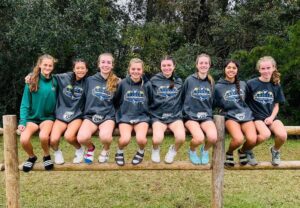 The athletes competing for the Verot girls team were Mackenzie de Lisle, Gianna Gyurich, Caroline Ward, Caroline Muddell, Erika Romero, Jocelyn Sweeney, and McKinley Parker. The Mooney girls team included Allsion Dempsey, Rosemary Selke, Ellie Runnels, Hailey Fritschle, Kyla Logan, Samantha Petrill, and Karel Dib. The Neumann girls team included Kailyn Albright Merkel, Elisabeth Le Quere, Virginia Kate Chachere, Emma Collins, Ava Murtack, Chelsea Perez, and Mylee Van de Wouw. The Verot boys team included Andrew Marino, Dennis Olsen, Zachary Zielke, Thomas Eichten, Zachary Engel, Rafael Casillas, and Cael Horton.
Congratulations to all these athletes for qualifying for the State Championships and their overall performance this season!