New Mooney athletic director named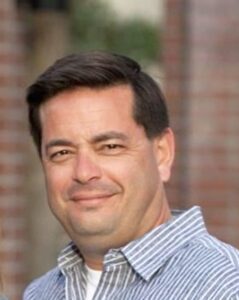 Rafael Fernandez has been appointed as the new athletic director at Cardinal Mooney Catholic High School in Sarasota. Fernandez is a 1991 graduate of Mooney having played baseball at the school. He comes to Mooney from the same post at Lake Howell High School in Winter Garden. Previously he was dean of students at South Seminole Academy in Casselberry, and before that at Lancaster Elementary School in Orlando. He has a degree from the University of Central Florida and is fluent in Spanish. Much of his family still lives in the Sarasota area as he returns to his roots to take on a program that has seen great success in recent years.
Knights support school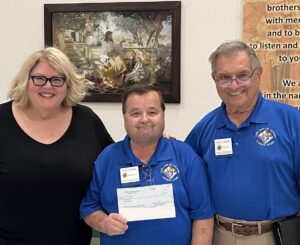 Two Knights councils, Ponce De Leon Council 8074 in Punta Gorda and Our Lady of Victory Council 3358 in Sarasota, recently presented gifts to St. Mary Academy in Sarasota. Council 8074 generously gifted $4,000 to support the school during a July 26, 2023, reception in Punta Gorda. Council 3358 presented a check for $5,000 on July 27. St. Mary offers an exceptional education for children with learning differences. For more information, please visit https://www.stmarysarasota.org/.
Children participate in summer camps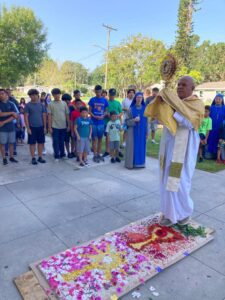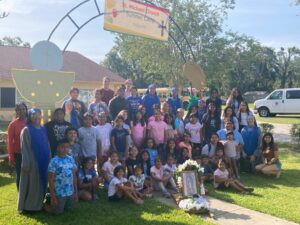 St. Michael Parish in Wauchula hosted two different summer camps, one for girls the week of July 10-14, 2023, and another for boys the week of July 17-21. These camps were all day and included fun activities but also had a strong component of faith, which included the participation in the Mass, prayer, adoration and taking part in Eucharistic processions. The camps were led by the religious women of the Servants of the Lord and the Virgin of Matará, who serve at the Parish, as well as many volunteers.
Scam Alert
There have been recent incidents where parishioners have been contacted supposedly by their pastor and/or parish staff to send gift cards, cash or money orders via email or text. These requests are a scam and under no circumstances should you reply to these emails or comply with these requests. Nor should you divulge any personal information to anyone that is not a trusted source. If you are contacted with a request for money via email or text, and the message appears as though it is from a Diocesan priest or employee, do not reply. Instead, make direct contact with the person by calling the Parish and asking to speak with the priest or employee.
Summertime and the Giving is Easy Appeal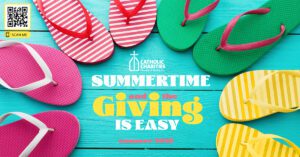 Every day, Catholic Charities, Diocese of Venice, Inc., serves in the 10 counties that constitute the Diocese of Venice the most vulnerable population by feeding, housing, empowering, and helping all in need. This summer, you can be the one that makes a difference. Your acts of kindness have the power to transform lives and leave a positive impact in our community. The Catholic Charities Summertime and the Giving is Easy Appeal is asking for your support. The giving is easy! Your gift will make a positive impact on our less fortunate brothers and sisters! Please visit https://catholiccharitiesdov.org/ or mail a check to Catholic Charities, 1000 Pinebrook Road, Venice, FL 34285.
Retreats Returning to OLPH
Beginning this Fall, Our Lady of Perpetual Help Retreat Center, 3989 South Moon Drive, Venice, will be offering a variety of retreats. There is available a single-day Youth Retreat for grades 6-12. The following group retreats are open for registration: Matt Talbot Men's Retreat scheduled for Oct. 15-17, 2023, and the Can You See Me? Retreat scheduled for Oct. 27-29. Interested in a 3-night, 5-night, or 7-night private, directed retreat schedule? Fall dates are now available. To learn more or to register for a group or private retreat, please visit https://www.olph-retreat.org/, or call 941-486-0233.
Surviving Divorce
If you or someone you know is navigating the challenges of a separation or divorce, consider participating in the Surviving Divorce Program developed by Rose Sweet, a well-known Catholic author, and speaker.  The twelve-week program begins at 6:30 p.m., Aug.17, 2023, at St. John the Evangelist Parish, 625 111th Avenue, Naples. Contact Michael Dana at mgdana@gmail.com or 301-332-9055 to register.
Day of Reflection for Sacramental Marriage
The Office of Marriage and Family Life will be hosting a Day of Reflection for couples preparing for the Sacrament of Marriage in the Catholic Church.  A specially prepared team will share their experiences and information enabling couples to be more aware of the privileges and responsibilities of marriage.  This event will be held from 9:30 a.m. to 3 p.m., Sept. 9, 2023, at St. John the Evangelist Parish, 625 111th Avenue, Naples.  The cost of $50/couple covers all retreat materials and lunch.  Pre-registration is required at https://dioceseofvenice.regfox.com/marriage-preparation-seminar-2023.  Should you have questions or require additional information contact Carrie Harkey at harkey@dioceseofvenice.org or 941-484-9543 ext. 4748.