It is fitting that the formal reopening of Our Lady of Perpetual Help Retreat Center (OLPH) in Venice was a Mass, with a blessing of the new Chapel altar.
Bishop Frank J. Dewane presided over the Mass on Oct. 1, 2023, marking the official recovery of the retreat center after Hurricane Ian caused extensive flooding damage a year earlier.
"When the hurricane passed through, we knew there was much to be done," Bishop Dewane said. "This had to be a priority to be fixed up, opened up, and functioning again, because of what this holy ground represents."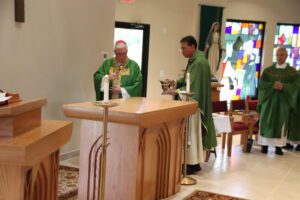 "OLPH is a positive experience for so many people, where they have come to discover or receive God's Mercy," the Bishop continued. "This retreat center is a blessing to the Diocese and it has had struggles and highlights. We are now going through a new highlight."
During the Mass, Bishop Dewane formally blessed the new altar first with a prayer of blessing and then with Holy Water and incense. Following the blessing, the altar was formally dressed, and the Mass proceeded.
OLPH Director Father Mark Yavarone, Oblate of the Virgin Mary, thanked the many present for their support in the recovery process. Father Yavarone pointed out the leadership of Bishop Dewane and Diocesan Chancellor Volodymyr Smeryk as the impetus to getting the retreat center open so quickly. The retreat center has been hosting retreats since late August and is very busy. In fact, a men's Cursillo group was at OLPH for the weekend of the reopening celebration.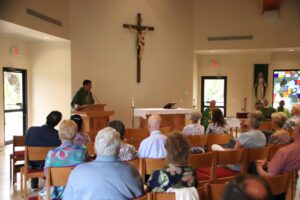 Large portions of the clean up after the hurricane and the rebuilding was made possible thanks to the help of many benefactors and volunteers. The financial support helped a great deal, but it was the volunteers whose expertise and love was put into helping with landscaping clearing and replanting, as well as the construction of the new furniture, saving OLPH tens of thousands in added expenses.
"We could not have survived without you," Father Yavarone said to those gathered. He also praised his small staff for overcoming the many obstacles and logistics to get OLPH back to functioning fully in less than a year.
Father also reflected upon his first visit to the property by kayak a few days after Ian, witnessing the destruction up close, with all seven of the major buildings flooded. This included the Chapel, conference center, dining hall and four residential buildings. It was not until 10 days after the storm when the damage could be surveyed by foot.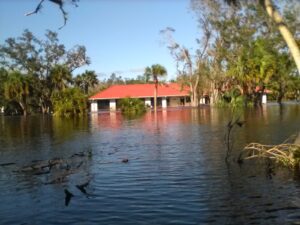 "When I first came back on property on foot and saw all of the mold and destruction, I had an unsettling thought – 'I wonder if the Bishop and Chancellor are going to pull the plug?' But, I never heard a discouraging word. The question was 'How can we rebuild to make the retreat center better than it was?' and the focus has been on achieving that goal to where we are today," Father said.
Bishop Dewane lauded Father Yavarone for his own leadership in guiding OLPH in its recovery process, doing off-site retreats at Epiphany Cathedral and Our Lady of Lourdes in Venice and San Pedro in North Port, all to ensure the ministry of the retreat center still reached many people, even if the physical buildings could not be used.
"Father never lost heart, because as we all know, OLPH has been a positive experience for so many people through the years and will continue to do so for many more to come," Bishop Dewane said. "Thank you, Father Mark, for all you have done."
Those gathered gave Father a standing ovation.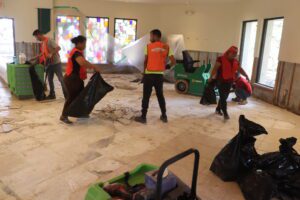 In addition to benefactors and volunteers, also present for the reopening were Carmelite Father J.J. McCarthy, former director of OLPH, and Sister Carmella Decosty, Sister of the Holy Names of Jesus and Mary, who helped establish OLPH with Redemptorist Father Charlie Mallen in 1995.
A reception was held in the conference center and guests were offered a tour of the rebuilt facilities. At the reception, the faithful were also introduced to Father Greg Cleveland, the new OLPH assistant director.
OLPH offers a variety of individual and group retreats as well as Ignatian Spiritual Exercises.
For more information about OLPH, or if you would like to offer financial support, please visit www.olph-retreat.org or call 941-486-0233.