Long-serving Diocesan employee recognized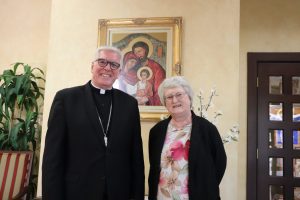 Although Jeanne Berdeaux has been with the Diocese of Venice for 37 years, she shows no signs of slowing down. The Diocesan Respect Life Director started her work with the Diocese on April 8, 1985, just a few months after the Diocese was founded and even before the current Catholic Center was constructed. She worked in Pastoral Ministries (now Evangelization) in her early years then moved to the Respect Life Office for several years before becoming the Director in 1998. Respect Life has been her passion ever since, spreading the word about the Catholic Church's teaching on life from conception to natural death. On her anniversary day, Bishop Frank J. Dewane congratulated and recognized Berdeaux for her hard work. Congratulations and keep up the good work Jeanne!
Mass for Victims of Abuse April 20 at Cathedral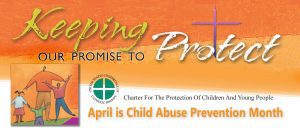 For the 15th consecutive year, during April, which is Child Abuse Awareness Prevention Month, the Diocese of Venice will be offering a Mass to pray for the victims of abuse. This Mass will be celebrated at 8 a.m., Wednesday, April 20, 2022, at Epiphany Cathedral 350 Tampa Ave. W., Venice. The Mass will be live-streamed, and all are welcome to attend as we come together to pray for the victims of abuse.
Ultrasound donated and blessed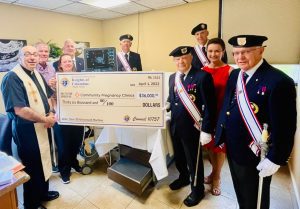 The Knights of Columbus Council 10757, from St. William Parish in Naples, raised the money to purchase a 3D ultrasound which was donated to the Community Pregnancy Clinics Inc. offices in Fort Myers, giving mothers and fathers in need the highest quality images of their unborn babies. The ultrasound was blessed on April 11, 2022, by Father Steven Clemente, Parochial Vicar of St. William Parish. With the science of 3D ultrasound, even at six weeks gestation, parents and family see in detail the beginning of their baby's development. Approximately 95% of women who view these clear images choose life for their baby!
Student athlete nominated for academic honor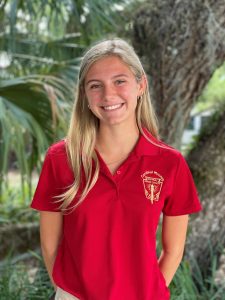 Hallie Monserez, a graduating senior at Cardinal Mooney Catholic High School in Sarasota, has been nominated to the 2022 Florida Dairy Farmers Academic All-State Team. This elite program recognizes and honors 24 graduating student-athletes who excel in both athletics and academics. The 2022 Florida Dairy Farmers Academic All-State Team selection committee received applications from 51 male nominees and 69 female nominees across the state. Each nominee was evaluated on their athletic participation, academic record, extracurricular activities, community service, and essay. Hallie owns a 4.0 GPA. The National Merit Finalist lettered in three sports (cross country, track and field, and soccer) all four years of high school and holds the school record in the 4x400m relay. Hallie is a member of student government, National Honor Society, Mu Alpha Theta, and St. Vincent de Paul Society. She earned over 150 community service hours volunteering with St, Michael the Archangel Parish, Our Lady of Angels Parish in Lakewood Ranch in Sarasota, as well as Living Lord Lutheran Church. She is the daughter of Amber and Michael Monserez and plans to attend the University of Notre Dame in South Bend, Indiana this fall. With this being one of the most important special recognition programs the Florida High School Athletic Association sponsors, 12 girls and 12 boys from all over the state will be awarded a total of $50,000 in scholarships. Each Florida Dairy Famers honoree will be recognized during a banquet on June 6, 2022.
Divine Mercy presentation and Feast Day celebrations
The annual celebration of the Divine Mercy Sunday, initiated by St. John Paul II and started in 2000, celebrates the mercy of Jesus as reminded us by St. Maria Faustina Kowalska, a religious sister who lived a humble life and to whom Jesus appeared. To celebrate this important Feast (April 24, 2022), Parishes throughout the Diocese will be holding traditional afternoon prayer services (typically around the 3 p.m. hour). Following are two examples of what Parishes are doing for the Feast of Divine Mercy.  St. William Parish, 601 Seagate Drive, Naples, will have its Divine Mercy Sunday celebration from 2:15 p.m. to 3:30 p.m. The service will start with the Exposition of the Blessed Sacrament, a reflection of Divine Mercy, chanting the Divine Mercy Chaplet and end with Benediction. All are welcome! For more information, please contact Fred or Barb Goduti at 239-261-4810. In Fort Myers, Our Lady of Light Parish, 19680 Cypress View Drive, invites everyone to its annual celebration of Divine Mercy Sunday. The Sacrament of Reconciliation will be available from 1:00 p.m. and the Holy Hour will begin at 2:30 p.m. with Adoration, the Chaplet and Benediction. All are welcome! For more information, please call the Parish at 239-267-7088.
Computers, robotics and Legos make learning fun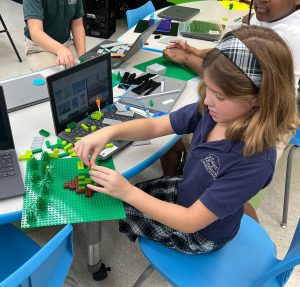 St. Andrew Catholic School third grade students learned about landmarks on April 6, 2022, in Cape Coral. To do this, they researched various landmarks on their computers and then, with their new Robotics programing software, used their Lego kits to bring what they learned to life. This is another example of great STREAM (Science, Technology, Religion, Engineering, Arts and Math) cross-curricular activity.
Fresh salsa made from school garden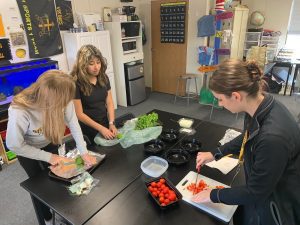 The Bishop Verot Catholic High School Environmental Club members enjoyed the fruits of their labor with homemade salsa in Fort Myers on April 17, 2022. Each of the ingredients were cultivated from the school garden. The results were tasty.
Schools, Catholic Charities in northern counties to benefit from Giving Challenge
Diocesan Catholic schools and programs of Catholic Charities in Sarasota, Manatee, Charlotte, and DeSoto counties will be beneficiaries of the 2022 Giving Challenge, from noon April 26 to noon April 27, 2022. The Giving Challenge is presented by the Community Foundation of Sarasota County with giving strengthened by The Patterson Foundation. All donations made during the 24-hour Giving Challenge are unrestricted gifts to the nonprofit organization of your choice. You can visit www.givingchallenge.org to search for participating organizations. Schools participating in the 2022 Giving Challenge include: Cardinal Mooney Catholic High School, Epiphany Cathedral Catholic School, Incarnation Catholic School, St. Mary Academy, St. Martha Catholic School, St. Joseph Catholic School, and St. Charles Borromeo Catholic School. In addition to Catholic Charities, other organizations within the Diocese that are part of the Giving Challenge include the St. Joseph Food Pantry, St. Vincent de Paul – St. Joseph Conference Bradenton Inc., as well as the Society St. Vincent de Paul – Ss. Peter and Paul the Apostles Conference.