When it comes time to reflect upon Mother's Day, there is no greater example than the Mother of Jesus.
Pope Francis said to be a mother is a great treasure through an unconditional and sacrificial love for their children, which was shown so clearly when the Blessed Virgin Mary presented Jesus at Christmas, a gift to the world.
Mary's example provides an opportunity for the Church to reflect on the role of all mothers in society and the Church, the Pope explained, noting how despite all of the "symbolic glorification" we give to motherhood, it is still under-valued.
To be a mother is a gift, the Pope said, and explained that through their sacrifices, mothers assist in helping society to overcome its self-centered tendencies, as well as its lack of openness, generosity and concern for others.
"In this sense motherhood is more than childbearing; it is a life choice entailing sacrifice, respect for life, and commitment to passing on those human and religious values which are essential for a healthy society," he said.
Reflecting upon the motherhood of Mary, Bishop Frank J. Dewane recently devoted the April 2022 Relevant Radio show "Witnessing Faith with Bishop Dewane" to the Blessed Virgin Mary.
"We must look to the faith of Our Lady," Bishop Dewane said. "Our Blessed Mother had to do some very difficult things to stay under the cross as her Son hung there. I don't know what more can be asked of a mother than to have to observe the death of her child."
It is appropriate that Mother's Day falls in the month of May, many of the Marian apparitions are linked to the month, which is one of the reasons why the Catholic Church opted to dedicate the month to Mary.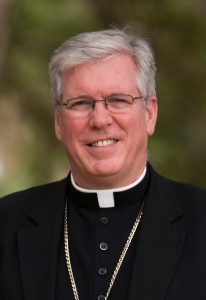 Bishop Dewane stressed that the Faithful must look at radically changing their life, but with a certain zeal, or fire, welling up from within, similar to how the Blessed Virgin answered "Yes!" to the call of the Lord at the Annunciation.
"Our human nature doesn't always drive us to do these things," the Bishop continued. "But when we take the time to spiritually reflect and allow the Lord to enter in, and allow Our Lady to be our guide, we can make a big difference."
During the radio show, Bishop Dewane and special guest Father Tom Carzon, Oblate of the Virgin Mary, Parochial Vicar at Epiphany Cathedral in Venice, reflected upon the different Marian apparitions.
"Our Lady is always calling us to repentance," Father Carzon said. "She's preparing us. She's calling us back to the Gospel.  And in the midst of things – even when suffering comes – just as she was standing by Jesus at the Cross – she's standing with us."
Marian apparitions in the Ukraine, Rwanda and other places of conflict and oppression, serve as not just a warning, but a comfort that Our Lady is always present, Father added.
"It's like these things, tragic as they are, they are not beyond God's reach, or outside of God's hands," Father Carzon said. "Mary helps us by that presence. It is so powerful – she shows up as we need her."
Bishop Dewane noted that some apparitions are witnessed by many or some are by a few, but the messages are clear, bringing comfort and healing. "When something brings people together in Faith, it has to be recognized that something good is happening."
The Patroness of the Diocese of Venice is Our Lady of Perpetual Help, which is also the name of the Diocese's primary retreat center in Venice. In addition, there are a dozen Parishes dedicated to Our Lady. In the coming weeks, there are two major celebrations of Mary, including the Feast of Our Lady of Fatima (May 13), as well as the newly instituted Memorial of the Blessed Virgin Mary, Mother of the Church, on June 6, the Monday after Pentecost, which was recently created by Pope Francis.
If you would like to listen to the April "Witnessing Faith with Bishop Dewane" radio show, the program is available at https://dioceseofvenice.org/our-bishop/relevant-radio-podcasts.
The monthly radio program on Relevant Radio can be heard at 8:30 a.m. on the last Friday of each month (May 27, 2022), at 106.7 FM and 1410 AM in Fort Myers and 93.3 FM and 1660 AM in Naples.