The 25th Biennial Conference of the Florida Council of Catholic Women (FCCW), took place Oct. 20-22, 2022, at the Embassy Suites in downtown Sarasota. The theme for the Conference was "Love One Another."
Members of Venice Diocesan Council of Catholic Women (VDCCW) hosted the event just three weeks after Hurricane Ian struck the Diocese on Sept. 28.
FCCW President and Province Director Tammy Farr and Brenda Dolan, Venice Diocesan Council of Catholic Women Conference Coordinator, and FCCW Province Director Elect, said there was some doubt the Conference would take place when the hurricane struck, but everyone from the Diocese of Venice and across the state rallied to ensure the conference would come off without a hitch. In the end, more than 120 attended the event.
"We came together and persevered to have a joyous, resourceful and humorous gathering," Farr said. "Council sisters, WE DID IT!!"
Bishop Frank J. Dewane offered the invocation and blessing at the closing banquet. The Bishop later remarked about how the CCW embodies what St. John Paul II called the "feminine genius" or "genius of women."
"You, as women, have a very special place and purpose," Bishop Dewane said. "Your impact on the life of the Church and in society is of inestimable value."
During the banquet, FCCW President Farr presented Bishop Dewane and the Diocese of Venice with approximately $10,000, raised in just three weeks since the hurricane, to go toward disaster relief. The Bishop expressed his gratitude saying the money would go toward the ongoing work of Catholic Charities, Diocese of Venice, Inc., which has been on the front lines responding in the hardest hit communities since the storm struck.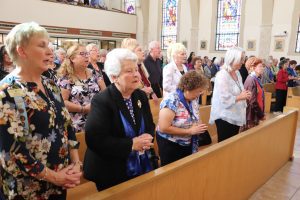 Farr also announced that the FCCW members had collected and donated a number of disaster relief supplies which were directed to help CCW members who were severely impacted by the hurricane.
Archbishop Thomas Wenski, of Miami, was the principal celebrant at the closing liturgy on Oct. 22 at St. Martha Parish, with Bishop Dewane concelebrating.
Both Archbishop Wenski and Bishop Dewane spoke at the closing banquet, praising the work of the FCCW and the role the women play in their home Dioceses, as well as in their legislative activism at the local, state, and national levels on issues that include life, and the death penalty.