World Youth Day topic at recent Theology on Tap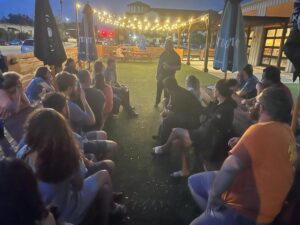 World Youth Day 2023 was the topic of discussion at the most recent Theology on Tap on Aug. 17, 2023, at the Mandeville Beer Garden in Sarasota. An outreach of the Diocese Young Adult Ministry, Theology on Tap takes place on the third Thursday of each month with a variety of speakers addressing topics relevant to the Catholic Faith. In August, the guest speakers were Transitional Deacon Thomas Gregory Dougherty, a Diocesan seminarian in his final year of studies at St. John XXIII National Seminary in Weston, Massachusetts; and Stephanie Lovetere, the Youth Ministry Coordinator at Epiphany Cathedral in Venice. Each shared their experiences on the trip to Portugal with a group of 52 from the Diocese, including Bishop Frank J. Dewane and Marthamaria Morales, Diocesan Director of Youth and Young Adult Ministry who also organizes Theology on tap. The monthly gathering also includes food and refreshments. The next scheduled date is Sept. 21, and will feature Father Christian Chami, Parochial Vicar at St. Jude Parish, Sarasota.  For any questions, please email Marthamaria Morales at morales@dioceseofvenice.org.
Second Collection for Maui, Hawaii Aug. 26-27
Devastating wildfires swept through the Maui region of Hawaii on Aug. 8, 2023, causing much destruction and a loss of life for a large number of residents, particularly in Lahaina.  As we are all called to help our brothers and sisters in need, a second collection will take place in the Diocese of Venice the weekend of August 26 and 27. The proceeds of the collection will be sent to Catholic Charities Diocese of Honolulu to assist in their efforts to address the needs of the citizens in the affected area. Your generosity is greatly appreciated.
Decline to Sign Petition for dangerous Pro-Abortion ballot initiative
An extremely grave initiative is underway in Florida that seeks to erase pro-life protections by inserting language into the Florida State Constitution banning regulation of abortion. Abortion activists are working to gather petition signatures to have a pro-abortion constitutional amendment placed on the statewide ballot in the November 2024 election. To do so, they need nearly 900,000 signatures and are working right now in communities across Florida to collect them. Floridian Catholics should not sign the petition. Please also continue your prayers for the protection of the unborn and spread the word to your spheres of influence.
High school retreat serves community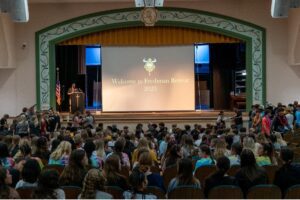 Bishop Verot Catholic High School in Fort Myers hosted its annual Freshman Retreat on Aug. 17, 2023. Freshmen, along with senior leaders, enjoyed a great morning getting settled into their rooms, listening to discussions, and enjoying breakfast. They then headed out to various service sites throughout the community in order to give back and appreciate the Christian Service aspect of the freshmen retreat.
STREAM skills used in school project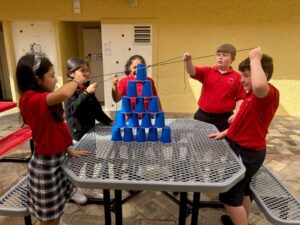 Fifth-grade students at St. Elizabeth Seton Catholic School in Naples used engineering, teamwork, math and technology skills in their first STREAM activity of the school year on Aug. 22, 2023. Each student was amazed to learn their handmade rubberband/yarn device was an actual tool! The objective was to build a tower first using only their dominant hand, then building the tower with their non-dominant hand. Students learned, smiled, and worked together as disciples of Christ.
Vocabulary "treasure hunt"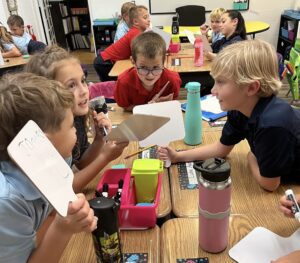 Using "Christ is Us" books, second grade students at St. Francis Xavier Catholic School in Fort Myers practiced their vocabulary words on Aug. 18, 2023. The lesson was a "treasure hunt" as the students try to find and define key "gem" words in the text of the books. When finished with their search, they presented to their groups and used cooperative learning structures for added reading lessons.
"Heart of Discipleship" retreat helps ministry students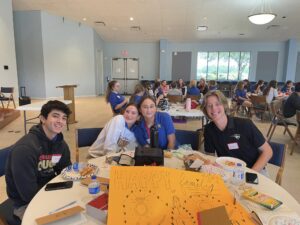 Cardinal Mooney Catholic High School ministry students in Sarasota attended a retreat on Aug. 22, 2023, at Our Lady of the Angels Parish in Lakewood Ranch. The students spent the day exploring the "Heart of Discipleship" while coming together as a team.  Students heard from various speakers including teacher, alum and Deacon Jack Milholland of Our Lady of the Angels Parish. The lesson learned was: "God is good! All the time!"
Day of Reflection for Sacramental Marriage Sept. 9 in Naples
The Office of Marriage and Family Life will be hosting a Day of Reflection for couples preparing for the Sacrament of Marriage in the Catholic Church.  A specially prepared team will share their experiences and information enabling couples to be more aware of the privileges and responsibilities of marriage.  This event will be held from 9:30 a.m. to 3 p.m., Sept. 9, 2023, at St. John the Evangelist Parish, 625 111th Avenue, Naples. The cost of $50/couple covers all retreat materials and lunch.  Pre-registration is required at https://dioceseofvenice.regfox.com/marriage-preparation-seminar-2023. Should you have questions or require additional information contact Carrie Harkey at harkey@dioceseofvenice.org, or call 941-484-9543 ext. 4748.
Summertime and the Giving is Easy Appeal coming to an end
Every day, Catholic Charities, Diocese of Venice, Inc., serves its most vulnerable population by feeding, housing, empowering, and helping all in need. This summer, you can be the one that makes a difference. Your acts of kindness have the power to transform lives and leave a positive impact in our community. The Catholic Charities Summertime and the Giving is Easy Appeal is coming to a conclusion soon. Your gift will make a positive impact on our less fortunate brothers and sisters! Please visit https://catholiccharitiesdov.org/ or mail a check to Catholic Charities, 1000 Pinebrook Road, Venice, FL 34285.
Formation Program in Spanish
The next session of the Hispanic Apostolate's Formation Program is scheduled to begin on Sept. 29, 2023. The topic of study will be focused on the "National Eucharistic Revival" and there will be a total of seven classes held from 7:00 p.m. to 9:00 pm. on Fridays. (During Lent classes will move to Thursdays beginning February 15th.). The cost for all the classes is $35 including the book. Those who register and attend a minimum of 6 classes either at one of the participating parishes or online using our APP (https://pastoralhispanavenice.com/) will receive a Diocesan Certification.
Programa de Formación en Español
La próxima sesión del Programa de Formación a cargo del Apostolado Hispano comenzará el 29 de setiembre del 2023. El tema de estudio estará enfocado en el "Avivamiento Eucarístico Nacional" y habrá un total de 7 clases que se darán los viernes por la noche de 7:00 pm a 9:00 pm. (Durante la Cuaresma las clases se trasladan al jueves a partir del 15 de febrero). El costo de todas las clases es de $35 incluyendo el libro. Las personas que se registren y atiendan un mínimo de 6 clases ya sea en una de las parroquias participantes o vía online usando nuestro APP (https://pastoralhispanavenice.com/) recibirán una Certificación Diocesana.
Help available for Hurricane Ian survivors
Catholic Charities Diocese of Venice, Inc. has partnered with St. Vincent de Paul Disaster Services in the Disaster Case Management Program to offer services to individuals and families impacted by Hurricane Ian. For additional information or to schedule an appointment, visit www.svdpdisaster.org, email DR4673IAN@svdpdisaster.org, or call 941-799-6779.