Retired priest dies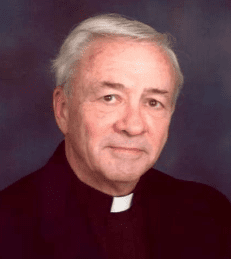 Father Edward A. Kearns Jr., a longtime priest in the Diocese of Paterson, New Jersey, died July 11, 2022, at the age of 86 in Sarasota. Father Kearns was born in Paterson and attended Seton Hall University in South Orange, N.J., and Immaculate Conception Seminary in Mahwah, N.J. He was ordained May 25, 1963 in Paterson. He served as Parishes in Parsippany, Boonton, Oak Ridge and was founding Pastor of a Parish in Three Bridges, N.J. He retired to Sarasota in 1998 and assisted part-time at St. Thomas More Parish. He is survived by a sister, numerous nieces and nephews and grandnieces and nephews. A Mass of Christian Burial will be held at St. Elizabeth Seton Parish in Three Bridges on Sept. 10, 2022.
2022 Sarasota Laps for Life 5K in October
The Knights of Columbus Our Lady of Victory Council 3358 is hosting the 2022 Laps for Life sunrise beach run/walk in support of SOLVE maternity homes in Bradenton, Sarasota and Englewood. The run/walk is 8 a.m. to 10 a.m., Saturday, Oct. 8, at Siesta Key Beach in Sarasota. The respect life event brings people of all ages and backgrounds together in support of at-risk women during and after pregnancy. Enjoy the family fun and post-race celebration with music, free food and games at the playground and pavilion area. The race will be chip-time and the first 200 registrants are guaranteed an event shirt. The cost is $40 for adults and $20 for ages 9-13 (under 9, free). To register, create a team or donate online, please visit http://srqLapsforLife.net.
Statewide Culture of Life Conference
The Diocese of St. Petersburg is hosting the 2022 annual Culture of Life (Respect Life) Conference at the Bethany Center in Lutz on Oct. 14-15, 2022. It includes an opening prayer and one session on Friday evening starting at 7 p.m. with the main conference on Saturday from 9 a.m. to 5 p.m. This year's theme is Commitment to Care. Conference attendees will be informed, inspired and equipped to understand, engage with and respond to some of the most pressing issues of the culture. Topics will include gender ideology and youth, political commitments, Walking with Moms in Need, end of life, death penalty and human trafficking. For details and registration, see www.dosp.org/culture-of-life-conference/. If you are interested in a possible bus trip to attend the conference, contact Jeanne Berdeaux at 941-374-1068 or Berdeaux@dioceseofvenice.org.
40 Days for Life Fall Campaign begins soon
The Fall Campaign of 40 Days for Life begins Sept. 28, 2022, and ends Nov. 6. Check with your Parish coordinator to join your Parish's day on the sidewalk or go to www.40daysforlife.com – look under the locations tab for Sarasota or Fort Myers. Your presence can be a powerful sign to women in need that better options are available to her.  Questions? Contact Jeanne Berdeaux at Berdeaux@dioceseofvenice.org or 941-374-1068.
Looking for a movie with a positive message?
"LIFEMARK" is a powerful film that celebrates adoption, reconciliation and love. It will run in many local theaters for one week, September 9-15. Inspire by a true story, it stars Kirk Cameron.  Watch the trailer, find local theater times and ticket information at www.lifemarkmovie.com. Groups of 25+ can purchase discounted tickets through the website.  Questions? Contact Respect Life Director Jeanne Berdeaux at Berdeaux@dioceseofvenice.org or 941-374-1068.
Summertime and the Giving is Easy Appeal continues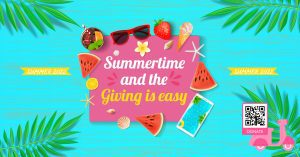 Every day, Catholic Charities, Diocese of Venice, Inc., serves its most vulnerable population by feeding, housing, empowering, and helping all in need. This summer, you can be the one that makes a difference. Your acts of kindness have the power to transform lives and leave a positive impact in our community. The Catholic Charities Summertime and the Giving is Easy Appeal is asking for your support. The giving is easy! Your gift will make a positive impact on our less fortunate brothers and sisters! Please visit www.catholiccharitiesdov.org or mail a check to Catholic Charities, 1000 Pinebrook Road, Venice, FL 34285.
Marriage Conference coming in October
Registration is now open for the Diocese of Venice Oct. 22, 2022, "Together in Holiness" Marriage Conference, presented in partnership with the Diocese of Venice Office of Family Life and the St. John Paul II Foundation. To register, please visit https://forlifeandfamily.org/events/th22-vnfl/. A video message from Bishop Frank J. Dewane can be found at www.dioceseofvenice.org/together-in-holiness-marriage-conference-october-22-2022. This marriage enrichment conference will take place from 10:00 a.m. to 5:00 p.m. at St. John XXIII Parish, 13060 Palomino Lane, Fort Myers. All Catholic married and engaged couples throughout the Diocese of Venice and beyond are welcome. Grow together in holiness, learn to form your children in the Catholic Faith, enjoy a day of quality time with your spouse, witness dynamic presentations! The day will include the Mass and the availability of the Sacrament of Reconciliation. This special event is for all couples, engaged, newlywed or long-married! On-site childcare will be provided. For more information, please contact Carrie Harkey at harkey@dioceseovenice.org.
Support after abortion – Project Rachel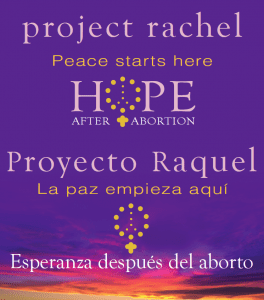 Most women who choose abortion eventually realize that they made the wrong choice and face a lifetime of regret. Even if they confess this sin to a priest, they often find it difficult to accept God's forgiveness and forgive themselves. Project Rachel is the Catholic Church's program to help women and men come to terms with an abortion decision and find the hope and healing they need. For confidential help in English and Spanish, call 941-412-5860 or email project.rachel@dioceseofvenice.org.
Want to Help a Pregnant Mother in Need?
Maybe she's being evicted or having her electricity turned off. Imagine being in her shoes, perhaps with other young children in the home. Think about what happens to food in a refrigerator without power for even a few hours. Your donation can assist pregnant women in need with rent, utilities, and other necessities. Send your donation to Catholic Charities Pennies for Babies Fund, 1000 Pinebrook Road, Venice, FL 34285. No administrative fees are taken so your money goes directly to those in need who have been screened by case managers. Questions? Contact Jeanne Berdeaux at Berdeaux@dioceseofvenice.org or 941-374-1068.
"Two Become One" Seminar Sept. 10
The last of the "Two Become One" Sacramental Marriage Retreats is scheduled for Sept. 10, 2022, at Our Lady of Lourdes Parish, 1301 Center Road, Venice. Registration is at 9:00 a.m. and the seminar ends at 5:00 p.m. A specially prepared volunteer team share their experiences and information with the intention of enabling couples to be more aware of the privileges and responsibilities of a Sacramental Marriage. The retreat is designed to be completed after the couple has done the initial consultation with their priest. For the prerequired registration, please visit https://dioceseofvenice.regfox.com/two-become-one-2022. If you have any questions, please contact Carrie Harkey at 941-484-9543 or harkey@dioceseofvenice.org.
Do You Need Help?
If you need assistance from Catholic Charities for food, financial assistance, or tele-mental health counseling, please call 941-355-4680 in Sarasota, Manatee, DeSoto, Hardee, and Highlands Counties; 239-390-2928 in Charlotte, Lee, Hendry, and Glades Counties; and 239-793-0059 in Collier County between the hours of 9:00 a.m. and 5:00 pm., Monday to Friday.
Equipping the Pro-Life Church
Community Pregnancy Clinics Inc., which has pregnancy resource clinics throughout the Diocese, is hosting two conferences to equip the Pro-Life Church on Tuesday, September 13. The first one is from 10:00 a.m. to 12:00 p.m. in Bonita Springs, and the second is 6:30 p.m. to 8:00 p.m. in Bradenton. The featured speaker at both events is Seth Gruber, who is a professional public speaker focused on equipping Christians and pro-life advocates to make a persuasive case for their pro-life beliefs in the public square. His approach, while not shying away from the moral question of abortion, focuses on giving participants the tools needed to effectively and lovingly engage others on the issue of abortion. Participants will learn how to effectively build a culture of life within their community. There is no cost to attend. All priests, deacons, ministry leaders, and Pro-Life advocates throughout Southwest Florida are encouraged to attend. To register for either event, please visit www.supportcpci.com or call 239-262-6381.
Catholic Women's Bible Study begins in September
Ss. Peter and Paul the Apostles Parish in Bradenton will be hosting a 20-week study "Blessed Conversations: Rooted" beginning Wednesday, September 14, through March 29, 2023. This study for women contains lessons and short videos on seven topics: the virtues; ways to pray; God the Father, Son, and Holy Spirit; the seven Sacraments; the 10 Commandments; the Our Father; and the Beatitudes. Each lesson includes a layperson summary of Catechism selections; short Scripture passages from the Old and New Testaments; a reflection by the author; and questions for discussion. Rooted is a study from Blessed is She, a Catholic women's online outreach. The cost is $25 for books and materials. The Wednesday gatherings are at 9:45 a.m. in the Moretti Center, 2850 75th St. W., Bradenton. Childcare is provided (donations appreciated). To learn more please call the Parish at 941-795-1228 or visit www.sspeterandpaul.org.
Registration Open for golf tournament
The registration is open for the Cardinal Mooney Catholic High School 2022 Annual Golf Tournament on Monday, October 10 (rain date, October 17) at the Laurel Oak Country Club in Sarasota. Registration starts at 10:00 a.m., with a shotgun start at 12:00 p.m. The cost is $775 per foursome (early bird registration by September 12, is $725 per foursome). The cost includes golf, a boxed lunch, cocktails, buffet dinner and prizes. There will also be a 50/50 helicopter ball drop ($10 per chance/open to all). The tournament benefits the CMHS Adopt-A-Student Financial Assistance Program. For tickets and sponsorships, please contact Amy Gorman at agorman@cmhs-sarasota.org or visit www.cmhs-sarasota.org.