Thanksgiving is an annual national holiday to praise and give thanks to God for our blessings of food and life.
In preparation for the holiday, many volunteered to help those who are less fortunate or who are struggling in the wake of Hurricane Ian.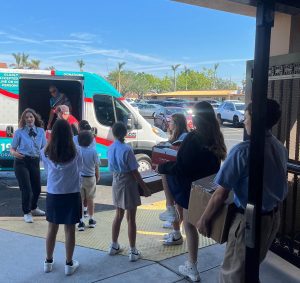 Parishes and Diocesan Catholic school students collected thousands of cans of food and other items to help fill local food pantries. Many also volunteered to distribute food as lines of vehicles twisted through parking lots in hopes of getting items for a hearty meal this year. Some Parishes hosted pre-Thanksgiving dinners to bring holiday cheer wherever they could.
For example, St. Andrew Catholic School students in Cape Coral donated 1,630 pounds of food to a local food pantry while at St. Joseph Catholic School in Bradenton, the student there collected 1,253 items. Similarly, St. John Neumann Catholic School students in Naples held their own food drive to benefit Catholic Charities, Diocese of Venice, Inc., collecting and delivering 6,423 canned goods.
The beneficiary of the St. John Neumann food drive was the Judy Sullivan Family Resource Center of Catholic Charities in Naples. The Thanksgiving food distribution there took place on Nov. 22, 2022.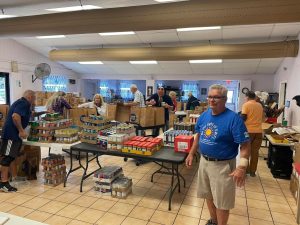 Allegra Belliard, Program Director, supervised as a steady stream of grateful families came and received a turkey and ham as well as bags of food. The turkey and ham meals were courtesy of Publix Charities.
Belliard said the demand is higher in 2022 as compared to the height of the COVD-19 pandemic. This is because the cost of food is much higher due to inflation combined with many people being out of work because of Ian. The hurricane damaged or destroyed many homes, businesses, and resorts, dramatically impacting those in the service industry. Among the places damaged was the Family Resource Center itself. Storm surge flowed through the building and surrounding neighborhood, but the food pantry part of the building was open within a few weeks as the demand remained high.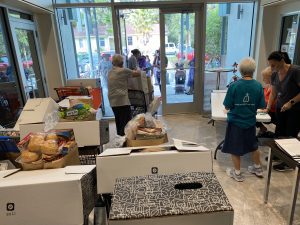 Cordelia Fulton felt blessed to have Catholic Charities provide food for her family. "Bless you all," the mother of three who has been unemployed since Ian said. "It will be a happy Thanksgiving in our home."
Guadalupe Social Services of Catholic Charities in Immokalee did their own food distribution on Nov. 19. This area had some damage during Hurricane Ian, but the greatest impacts were to the crops which are an important resource for work in the rural community.
Peggy Rodriguez, Catholic Charities Regional Director for Collier County, said teams of volunteers packed more 700 bags of food ahead of Thanksgiving, above what is normally distributed each week. About 200 of those bags were dispersed directly from the Guadalupe Social Services food pantry. Meanwhile, several agencies worked together to deliver the balance of the food to 500 more families who were unable to arrive during regular hours.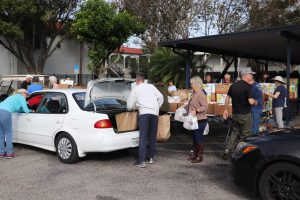 In Manatee County, where hurricane damage was scattered, the demand for food ahead of Thanksgiving was still very high at the St. Joseph Food Pantry in Bradenton.
A line of vehicles filled with families seeking a turkey with all the trimmings, twisted its way through the parking lot of St. Joseph Parish on Nov. 21. In a three-day period, the pantry expected to distribute food to 800 families. A generous donation of 2,000 turkeys the week before Thanksgiving enabled the pantry to give every family a turkey, something that isn't always possible.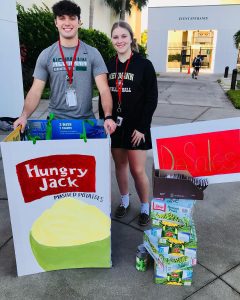 Sylvia Trotter said she has been struggling to feed her family while juggling expenses such as caring for two children and her parents. "We combine our money for important things, and we doubted that we would celebrate Thanksgiving this year," Trotter said. "Everything is a luxury now, which makes these wonderful (volunteers) my heroes."
Bishop Frank J. Dewane offered the following Thanksgiving message to the faithful of the Diocese:
"Greetings to all and a Blessed and Happy Thanksgiving! In this season of gratitude, let us remember to give thanks to God who has given many great gifts to all. The greatest gift God has given is the body and blood of His Son, Jesus Christ, in the Eucharist. The word "Eucharist" actually means "an act of thanksgiving to God". By participating in the Holy Sacrifice of the Mass, we are united as one body, one human family, in Christ.
On Thanksgiving Day, I extend my gratitude to all here in the Diocese of Venice, and to the many around the country, who so generously have provided aid in the aftermath of Hurricane Ian. Know that you remain in my prayers.
Happy Thanksgiving! Have a Blessed Advent Season!"
If you would like to support Catholic Charities, please visit www.catholiccharitiesdov.org or if you would like to support the Diocesan effort to recover from Hurricane Ian, please visit www.dioceseofvenice.org/hurricaneian.