Diocesan Seminarian admitted to candidacy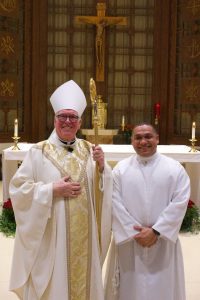 Bishop Frank J. Dewane presided over the Admission to Candidacy of 14 seminarians at Pope St. John XXIII Seminary, in Weston, Massachusetts, on Oct. 26, 2022. Among those admitted to candidacy was Diocese of Venice Seminarian Carlos Galeso. Each of the seminarians have been approved by their respective Bishops and will continue in their studies to become Catholic priests. Each man publicly expressed his intention to complete his preparation for Holy Orders and his resolve to fully invest himself to that calling.
World Youth Day 2023 Registration extended to Nov. 30!
Registration for World Youth Day 2023 to Lisbon, Portugal and has been extended to Wednesday, Nov. 30, 2022. You are invited to join Bishop Frank J. Dewane for the trip to Lisbon with two nights in Fatima. This 11-day pilgrimage is from July 29 to August 8, 2023. The theme for World Youth Day 2023 is "Mary arose and went with haste". (Luke 1:39) Travel arrangements are facilitated by Peter's Way Tours. Space is limited. Please visit https://dioceseofvenice.org/offices/offices-departments/evangelization/world-youth-day-2023/ for registration and further information.
Food pantry needs help ahead of Thanksgiving
The St. Joseph Food Pantry, 2704 33rd Ave. W., Bradenton, is seeking food donations ahead of Thanksgiving. Specifically needed are canned green beans, canned corn, canned sweet potatoes/yams, corn muffin mix, and boxed dressing. Donations can be delivered to to the Food Pantry Monday thru Friday 9 a.m. until noon. Please call 941-756-3732 or email directors@stjoepantry.com if you have any questions or need to make arrangements for drop off.  Year round, the pantry needs full-sized toiletries, cereal and oatmeal, canned tuna, peanut butter & jelly (in plastic containers only), spaghetti in boxes and canned tomato sauce (no glass), boxed macaroni & cheese, ketchup and mustard (in plastic containers only), salad dressing (in plastic containers only), shelf stable milk or dry milk, and breakfast bars. During the cooler months, there is also a need for clean, gently used or new, blankets or throws. NO clothing. The St. Joseph Food Pantry does not accept fresh or frozen food from donors. All such items are shipped from stores with which the pantry has a professional relationship, or from the Feeding Tampa Bay Food Bank. This policy follows USDA food safety guidelines. For more information, please visit www.stjoepantry.com.
Freshmen retreat shows off Mooney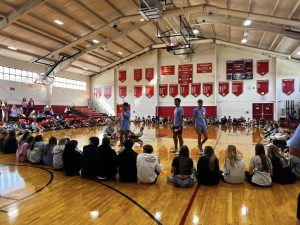 What makes Cardinal Mooney Catholic High School in Sarasota different? The community of caring students. The freshmen class had their first retreat on Oct. 27, 2022, where the senior ministry students led them in prayer, played games, and provided a safe place to talk about their faith. The class of 2026 is the future of Mooney and spent the day together bonding. The theme of the day: "Called By Name" came from Isaiah 43:1, "Do not fear, for I have redeemed you; I have summoned you by name; you are mine."
Talents shine at Science Fair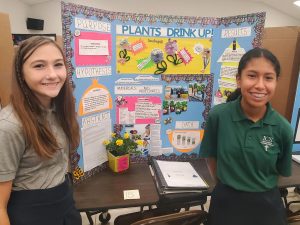 The Incarnation Catholic School middle schoolers took part in a Science Fair in Sarasota on Oct. 28, 2022. The students did an amazing job impressing the judges, teachers and each other. Each student, or team, did various experiments and documented their results, including the purpose of the project, a hypothesis, materials and procedures to conduct the experiment, data collected and the results. This was all displayed, including various graphs and images, to be judged and available for others to learn.
Children join in celebrating World Mission Sunday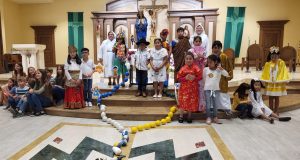 St. Paul Parish in Arcadia celebrated World Mission Sunday, on Oct. 23, 2022, with a procession of children wearing traditional clothing representing the different regions of the world. The children then sat on the steps of the altar while World Mission Sunday was explained. World Mission Sunday is celebrated in all the local Churches as the feast of Catholicity and universal solidarity so Christians the world over will recognize their common responsibility with regard to the evangelization of the world.