By Michael Morse, Special to the Florida Catholic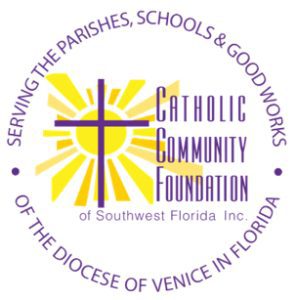 The importance of vigilance, readiness, and preparation is central to our Catholic Faith.  In Chapter 24 of Matthew's Gospel, Jesus reminds His disciples of what happened to those that ignored Noah's warnings and failed to prepare for the flood.  He also tells them, "Be sure of this: if the master of the house had known the hour of night when the thief was coming, he would have stayed awake and not let his house be broken into. So too, you also must be prepared, for at an hour you do not expect, the Son of Man will come."
Many of us do not like to think about end-of-life issues and preparing for a time when we, or a loved one, will no longer be here. In addition to being spiritually prepared, we must also be prepared in all other aspects of our lives. On far too many occasions, we delay our preparations until it is too late, and our families are left guessing about our wishes and scrambling to find important documents and information.
As each of us think about and plan for the future, we can quickly become overwhelmed by all of the items that need to be considered. Even if we have a will or trust, we need to make sure we have other important documents in place like a Financial Power of Attorney, Healthcare Surrogate, and Living Will (Healthcare Directive). In addition, we need to have a record of all our assets, important documents, passwords, personal advisor information, funeral instructions, charitable considerations, and more.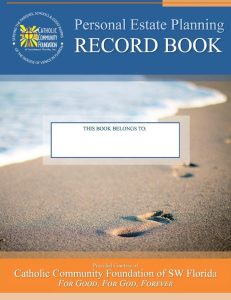 To help ease the burden of the planning process, the Catholic Community Foundation of Southwest Florida has made available a free Personal Estate Planning Record Book. This record book is intended to help collect and organize important information and to serve as a valuable tool for your estate planner and loved ones. By being prepared, you will save both time and money. You will also simplify the process for those you love when they need to access your important life documents.
The record book will allow your personal representative, executor, or trustee to easily locate your beneficiaries, safe deposit box, titles, stocks, bonds, Will, Trust Agreements, and other important documents. It will also help you create and/or review your estate plan to better provide for your loved ones and the causes about which you care most. It is important to remember that as you move forward with your estate planning, it is highly recommended that you consult with your attorney, CPA and financial adviser.
To request your free copy of the Personal Estate Planning Record Book, please email the Foundation at CCF@dioceseofvenice.org.
Michael Morse is the Executive Director of the Catholic Community Foundation of Southwest Florida. To learn more about the Catholic Community Foundation, please contact Morse at 941-441-1124 or Morse@dioceseofvenice.org, or visit www.CCFDioceseofvenice.org.