Catholic Charities, Diocese of Venice, Inc., has worked tirelessly to care for the most vulnerable, since Hurricane Ian struck Southwest Florida on Sept. 28, 2022. The numbers are astounding; Catholic Charites has served 107,000+ people, organized 1,900+ volunteers, provided 21,000+ hot meals, and distributed 2,500+ tons of supplies.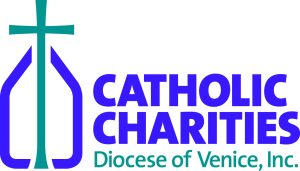 The demand was great," said Eddie Gloria, CEO of Catholic Charities DOV. "Catholic Charities stepped up to do what had to be done even as many of our staff and volunteers suffered losses from Ian."
While there were 10 official Hurricane Ian Disaster Response distribution points, a few other locations received supplies as the needs in additional areas became apparent. By early November, the number of Catholic Charities disaster response sites had dropped to six (three in Lee County, and one each in Charlotte, DeSoto, and Hardee counties), as the response has transitioned more to recovery and support.
"When new needs arose, there was a call for help and the response was outstanding," Gloria said. "The generosity of people in times of crisis never ceases to amaze me."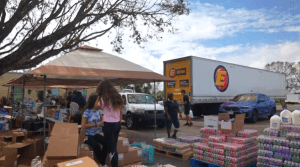 The basics of food and water were available at each site, some from donations of individuals, families, Parishes, non-profit groups and even corporations. The majority of what was distributed was in the form of FEMA Disaster Relief supplies, which included cases of bottled water and boxes of meals-ready-to-eat.
Nearly 127 semis, and an unknown number of other supply vehicles, brought the basics to sites in Bonita Springs, Fort Myers, Port Charlotte, Arcadia, Wauchula, Naples, North Port, Cape Coral and Venice.
Bishop Frank J. Dewane said Catholic Charities in the Diocese has been "doing a yeoman's job in striving to get to those who are most severely impacted by the hurricane."
Bishop Dewane and Gloria both expressed their gratitude for the influx of donations of supplies and money in the wake of Ian, knowing that this support is making a difference on the ground each day.
While the initial crisis has passed and the demand for food and water has dropped, the work of Catholic Charities is far from over, in fact it is really just beginning.
Clint Branam, Catholic Charities COO, said that as people got power back and water became safe to drink again, the needs of those most severely impacted by Ian changed.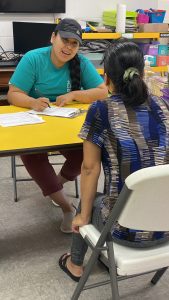 "We are past the first phase, which is responding to the immediate aftermath of this disaster," Branam said. "Now we are focusing on helping people rebuild their lives. This means case management and support with getting people back into their homes whenever possible. Even if a family didn't have serious damage in the storm, many had time off from work that they really could not afford. Others had damage they cannot afford to take care of, and still others need to relocate."
These unexpected expenses are difficult in the best of times but can be more devastating than the winds of Ian for low-income families. The added destruction of many businesses means the number of people out of work is immense. Combine a damaged home and possible long-term unemployment and the second disaster from Hurricane Ian is not far behind.
For this reason, all Catholic Charities offices within the Diocese are offering disaster support in the form of financial assistance for those who lost their home or work, or both.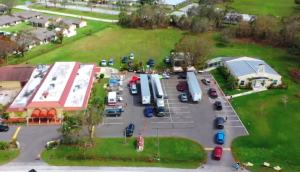 While Catholic Charities will always accept donations of cleaning supplies and food such as rice, beans and cooking oil, the real need is for financial donations, Gloria said.
"There is no doubt about it, if someone wants to help now, and for the foreseeable future, monetary donations are desperately needed," he said. "We are transitioning into intensive long-term disaster case management. This helps people get back on their feet and has a heavier financial component. Catholic Charities will be helping people recover until there is no longer a need."
If you need help:
For those in need of help, please visit www.catholiccharitiesdov.org. There you will find an updated list of distribution points for food, water, and supplies, and how to receive other help.
To donate:
For those interested in making a financial donation to the Diocesan response to Hurricane Ian, please visit www.dioceseofvenice.org/hurricaneian, or send a check to Diocese of Venice in Florida, ATTN: Hurricane Ian Relief, 1000 Pinebrook Road, Venice, FL 34285.
Scam Alert:
In the wake of Hurricane Ian, there are those who will take advantage of the vulnerable or those who seek the vulnerable during a crisis. When corresponding with someone – whether a contractor, an agency or person in need – be diligent and make sure the person or business is legitimate before handing over any money or personal information. In addition, if you are contacted with a request for money via email or text, and the message appears as though it is from a Diocesan priest or employee, do not reply. Instead, make direct contact with the person by calling the Parish and asking to speak with the priest or employee.