Valentina Baretta, Special to the Florida Catholic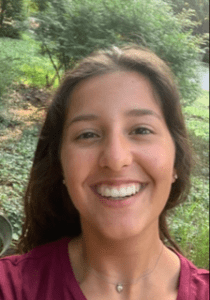 Human beings naturally have a goal of personal fulfillment. A rather vague topic, achieving goodness can be defined so differently by any group of people. But Dr. Lisa Kotasek (affectionately known to her students as Dr. K), Cardinal Mooney Catholic High School 11th grade Theology teacher, has continued an inspiring tradition to make this commitment to the common good: the "Thank You Card Revolution."
For the past two years at Mooney, the "Thank You Card Revolution" originated from a former school. It has been part of Sarasota school's community-oriented initiative and the STREAM Project of the Diocese of Venice. An acronym for Science, Technology, Religion, Engineering, Art, and Math, STREAM includes the infusion of Catholic values into school activities such as writing thank you cards to teachers, friends, and family.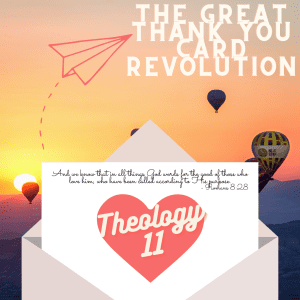 Kotasek connects the "Thank You Card Revolution" to Scripture, specifically to "This is the day the LORD has made; let us rejoice in it and be glad" (Ps. 118:24). For the junior class at Mooney, the 160 students rejoice in God's goodness through their creative letters. All handmade, these cards signify the genuine character of each writer, an example of spreading positivity based on the idea that "if you receive one, you write one." Expressing one's feelings in this way encourages the gift of affability, where we spread joy and evangelize with the joy of the Gospel message.
With this motif in consideration, several students revealed their personal views on this "revolution."
Allie Moore, a Mooney senior, spoke about her participation in this "revolution" after receiving her first thank you card. Allie admitted that junior year "was very stressful with a very heavy course load and receiving that letter from someone else brightened my day and overall boosted my mood." Knowing that her friend was willing to write a letter to her, prompted Allie to join in on sharing such optimism through her own thank you cards. If given the opportunity to do such an activity again, Allie stated that she would write a thank you card to Mr. (Ryan) Krause because she "greatly admired his devotion to this school, especially being a new teacher." For her, the "Thank You Card Revolution" is "inspiring" and "should be inspiring to others as well."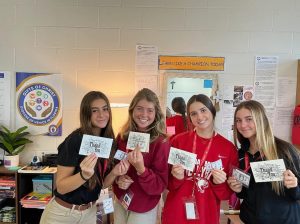 Mooney senior Jessica Kaszubski said the "Thank You Card Revolution" was just as impactful. "I remember last year, Dr. K asked us to make a thank you card for someone in our class before we left. I remember writing a card for one of my friends, and I know that she still has it to this day. It was a very generous and thoughtful thing for Dr. K to have us do."
A "circle of goodness," the "Thank You Card Revolution" spreads the idea that we can be grateful and see the dignity in our neighbors, as God has given us all the gift of dignity, made in His image and likeness. Living in solidarity with each other, we take the time to stop and give specific feedback about how much we appreciate what others have done for us. Thus, we can use fortitude, prudence, and temperance as we battle vices and choose virtues instead, even if we simply choose to write uplifting letters of gratitude.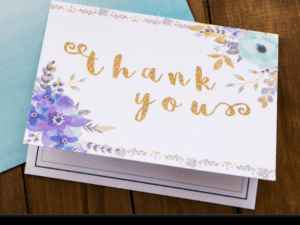 Another Mooney senior, Cooper "Froggy" Flerlage was also fond of this selfless activity. A football player, track and field athlete, and choir singer, Cooper "loved the project-based learning… I'll never forget Christmas in G-102 where we read aloud about St. Nick and enjoyed the season."
A project in itself, the "Thank You Card Revolution" is assigned as a "Do Now Project" for the junior class. The class plans on sending one card per student per week, the equivalent of sending over 5,700 cards and exponentially increasing from there to send nearly 275,000 cards this year in total.
The original idea of the "Thank You Card Revolution," came from Dr. K's mother, Wendy Starr. She "instilled this habit of "Thank You Cards," as we spent our childhood thankful for others who blessed our lives with the gifts of their time and talents. Mrs. Starr was a beloved guidance counselor and history teacher at Triway High in Wooster, Ohio.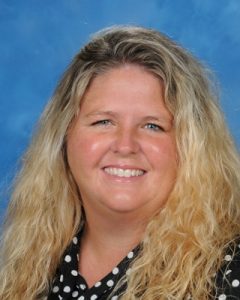 Moving forward, Dr. K challenges all card receivers to stop by to get a blank card to send to someone else. This builds upon the Diocese of Venice Gifts of Christ initiative created by Jennifer Falestiny, Diocesan Curriculum Coordinator, into projects like this "revolution" during the school year. One of these gifts, unity, was expressed in a homily by Father John Belmonte, SJ, Diocesan Superintendent of Catholic Education, to Mooney's student body upon their return after Hurricane Ian.
With the "Thank You Card Revolution," such values of togetherness are summed up in Dr. K's words, "We are all in this together. As God's beautiful, blessed, beloved, and cherished children, we can unite in solidarity and love to spread goodness to all across Florida and beyond. Join us."
Valentina Baretta is currently a senior at Cardinal Mooney Catholic High School. She is a swimmer, weightlifter, flute player, and Newspaper Club president.