The Catholic Solemnity of All Saints Day traces its origins in the Church to the year 609, and it was first celebrated in May. However, in the 9th century, Pope Gregory IV moved the holiday to Nov. 1, so that Oct. 31 would become the celebration of the vigil of the feast – All Hallow's Eve.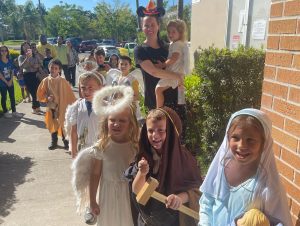 With its roots in German, Halloween (Hallow's Eve) actually translates to Holy/Saints Evening, or evening of All Saints' Day.
Therefore, the tradition of dressing up for Halloween was taken with full gusto this year as many Parishes hosted Trunk-or-Treat events in their parking lots, while Diocesan Catholic Schools joined in the fun and the celebration of the saints in a variety of ways.
For example, in honor of All Saints' Day, St. Joseph Catholic School 4th and 5th Graders in Bradenton researched the lives of their favorite saints, dressed as that Saint, and lead a procession into Mass on Nov. 1, 2022. After Mass, these students met in the Parish Center with families and parishioners to share details about their favorite Saint. Their costumes were impressive, and they did a great job with their presentations.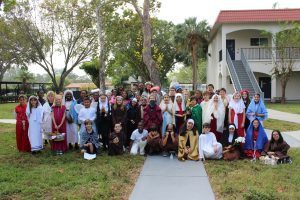 On Oct. 28, the St. Joseph second graders visited a nearby assisted living facility. In addition to trick-or-treating, the students performed Halloween poetry and songs for the residents. That same night, the school and Parish hosted a Truck-or-Treat where families went all out to come up with different themes.
St. Cecilia Parish in Fort Myers held a procession of saints before Mass on Oct. 30, as do many Parishes, allowing the young children the opportunity to get into the spirit of the special Feast Day.
Many children at St. Michael Parish in Wauchula participated in an All Hallow's Eve celebration on Oct. 29. In addition to candy, there were fun games for all ages.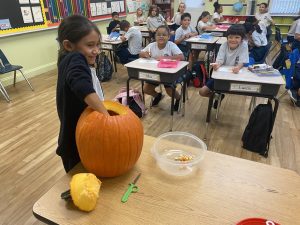 At St. Catherine Catholic School in Sebring, the second-grade students carved out pumpkins in a lesson called "The Pumpkin Patch Parable" when they learned "Jesus takes our messy sins away so our light can shine all day and night."
Bishop Verot Catholic High School in Fort Myers hosted its own pumpkin decorating event on Oct. 28, bringing in young students from St. Francis Xavier Catholic School in Fort Myers and St. Andrew Catholic School in Cape Coral. With guidance from the Verot students, their young charges enthusiastically decorated their pumpkins with all sorts of fun and colorful designs.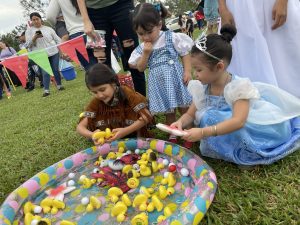 Incarnation Parish in Sarasota offered the veneration of First Class Relics in between each Mass on the vigil and solemnity. On display at the Parish were relics from St. Catherine of Siena, St. Dominic, St. Elizabeth of the Trinity, St. John of the Cross, St. Faustina, St. Francis of Assisi and many more. The idea for this grew from a spring tour of the "Relics of the Vatican" which drew great interest.
Catholic News Service provided information for this report.