Nearly a year ago the winds and flooding rains of Hurricane Ian displaced many families in DeSoto, Hardee and Highlands counties. Catholic Charities, Diocese of Venice, Inc., was on the front lines helping desperate people get the basics necessary for survival.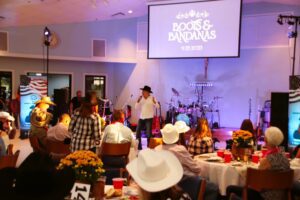 Today, the recovery is ongoing but the need to support families in the region remains. Large swaths of these counties had severe wind damage compounded by river flooding that washed away homes and displaced thousands of families.
In support of the ongoing recovery efforts in the region, the Boots and Bandanas Gala took place on Sept. 23, 2024, at Our Lady of the Angels Parish in Lakewood Ranch. On hiatus for the past few years, the event has a country-western theme which reflects the rural communities.
Catholic Charities programs is this region includes food pantries, farmworker housing, financial assistance, after school programming, and much more.
"Your support will go a long way to helping these needy families get the help they need," said Eddie Gloria, CEO of Catholic Charities. "There continues to be a tremendous need in this area even a year after Ian."
Gloria said that Catholic Charities helped more than 100,000 in the first months following the hurricane on Sept. 28, 2022, but that the demand for continued assistance in the rural communities of DeSoto, Hardee, and Highlands counties remains high.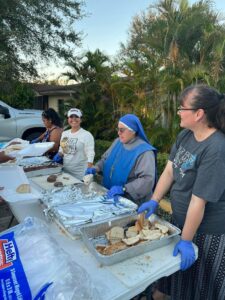 After Ian, St. Paul Parish in Arcadia and St. Michael Parish in Wauchula served as distribution points for food and water and other emergency supplies, even while floodwaters surrounded the communities.
In fact, at both Parishes, people rallied to bring fresh food and hot meals to help feed their neighbor in need. In Wauchula, the religious sisters hosted an evening barbeque for two weeks after the storm passed. In addition, at both Parishes, donated clothing was also made available for those families who lost everything to flooding. Later, donated furniture and other necessities for rebuilding lives were donated and distributed. That work continues one year later.
In addition, Catholic Charities, helped by volunteers, organized a point of distribution of food, water, tarps, cleaning supplies and more, with the assistance of the National Guard and FEMA.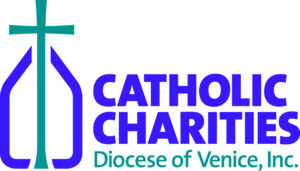 Bishop Frank J. Dewane was one of many who volunteered his time at both locations in the days following Ian and saw the need in the area. While Bishop Dewane was unable to be at the Boots and Bandanas Gala due to a prior commitment, a message of gratitude for the ongoing support of Catholic Charities was shared.
The Boots and Bandanas event was on hiatus because of Hurricane Ian and other logistical issues, before Father Sebastian Szczawínski, Pastor of Our Lady of the Angels, enthusiastically offered to host the gala for the first time.
The evening included a live auction item of dinner with Father Szczawínski, which two bidders won, as well as a wide assortment of silent auction items. The meal was provided by Mission BBQ, while the music was from Arcadia native Andy Pursell and his band.
"We're happy that all these people came out, and we're loving the fact that we can wear these boots and bandanas and make it a fun night for everyone," Gloria said.
If you would like to support Catholic Charities in its mission to help those in need, please visit https://catholiccharitiesdov.org/.