Students learn about how corporation operates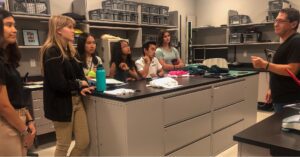 Members of the Bishop Verot Catholic High School Scholars Academy learned about color, fabric quality, lab testing, trends, concept design, visual merchandising, and technology while touring the Fort Myers campus of Chico's headquarters in May 2023. These students had a front-row seat to see how a large clothing retail company operates, as the students learned how to connect their academic paths to future career opportunities.
STREAM summer camp in Bradenton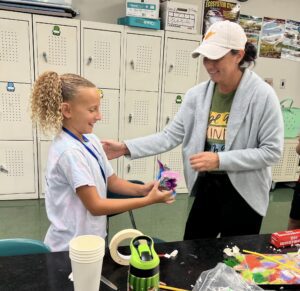 St. Joseph Catholic School in Bradenton is hosting a summer camp which focuses on learning STREAM (science, technology, religion, engineering, arts and math) skills. The first day of the camp was June 5, 2023, and activities included making morphing creations, enjoying books, and participating in "Math and Movement."
Young adult outreach opportunity
St. John XXIII Parish in Fort Myers hosts a once a month gathering for young adults called Rooted, in the church at 4 p.m. on the second Sunday of each month (June 11, 2023). This includes praise and worship, along with Eucharistic Adoration. In addition, the outreach program is looking to expand it's offerings to young adults, such as for college students, those 20-30, young adults who are married with/without children (children welcome), and older adults aged 30 years and up. If you are interested in helping to organize, lead, or participate in this effort, please contact Kelly Evers, St. John XXIII Coordinator of Youth and Young Adult Ministry, at kelly@johnxxiii.net or 239-561-3022.
Day of Reflection for Sacramental Marriage June 17
The Office of Marriage and Family Life will be hosting a Day of Reflection for couples preparing for the Sacrament of Marriage in the Catholic Church on two separate dates. This day of reflection will be 9:30 a.m. to 3 p.m., June 17, 2023, at St. Katharine Drexel Parish, 1922 SW 20th Ave., Cape Coral. A specially prepared team will share their experiences and information enabling couples to be more aware of the privileges and responsibilities of marriage. The cost of $50/couple covers all retreat materials and lunch.  Pre-registration is required at Marriage Preparation Seminar 2023 (regfox.com).  Should you have questions or require additional information contact Carrie Harkey at 941-484-9543 ext. 4748, or harkey@dioceseofvenice.org.
Summertime and the Giving is Easy Appeal
Every day, Catholic Charities, Diocese of Venice, Inc., serves its most vulnerable population by feeding, housing, empowering, and helping all in need. This summer, you can be the one that makes a difference. Your acts of kindness have the power to transform lives and leave a positive impact in our community. The Catholic Charities Summertime and the Giving is Easy Appeal is asking for your support. The giving is easy! Your gift will make a positive impact on our less fortunate brothers and sisters! Please visit www.catholiccharitiesdov.org or mail a check to Catholic Charities, 1000 Pinebrook Road, Venice, FL 34285.
Ordination to the Priesthood July 15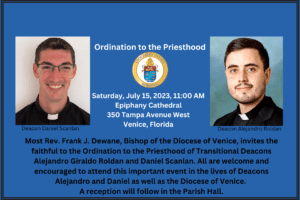 Bishop Frank J. Dewane invites the faithful to the Ordination to the Priesthood of Transitional Deacons Alejandro Giraldo Roldan and Daniel Scanlan. The Ordination will take place at 11 a.m., Saturday, July 15, 2023, at Epiphany Cathedral, 350 Tampa Ave. W., Venice. All are welcome and encouraged to attend this important event in the lives of Deacons Alejandro and Daniel as well as the Diocese of Venice. A reception will follow in the Parish Hall.
Volunteers Needed for Prison Outreach
Join the team of Diocesan volunteers who enter county jails and state prisons within the 10-county Diocese of Venice to do pastoral outreach, distribute the Eucharist and facilitate programs. Priests, Deacons, and lay volunteers are encouraged to assist in this ministry. Volunteers will first participate in an orientation program before entering the facility and will "shadow" experienced volunteers until you feel comfortable. Times and days vary by facility. Please contact Joe Mallof at 224-217-7139 or Bob Hiniker 863-558-0407 to learn where you can fit into this joyful opportunity.