James F. Gontis cherishes the opportunity to multiply the good of the Catholic Faith in his new position as Diocese of Venice Director of Evangelization.
Starting his new role on Aug. 1, 2022, Gontis brings to the Diocese his diverse experience in the evangelization and catechetical field. Most recently Gontis served in the Diocese of Harrisburg, first as Director of Religious Education and then for the last five years as Director of Evangelization and Catechesis.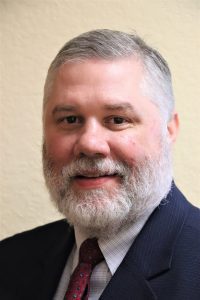 In Harrisburg, he oversaw classes, workshops and presentations on theological and Catholic teachings, evangelization and much more and previously directed Adult Religious Education and related programs and workshops.
Gontis explained that his role as Director of the Department of Evangelization – which includes the Office of Family Life and the Office of Youth and Young Adult Outreach – is to draw people closer to God.
"Faith cannot be in the abstract but has to be lived out in the here and now," he said. "I am grateful to serve the Church in this beautiful area, helping to remind everyone the role we all have – as the baptized – to live our Faith as God calls. We do this through the way we live, what we say, and what we do. It is easy to say and hard to do. But we must respond, confident that the Lord gives us sufficient grace to do what He asks; to live for the Glory of God and get into heaven, while bringing with us as many others as possible."
Gontis earned a M.A. in Theology from Franciscan University of Steubenville, Ohio, and before that a degree from Adams College (University) in Colorado. He was a teacher in Farmington, New Mexico and Fountain Springs, Pennsylvania, before taking a Diocesan position in Harrisburg.
Married for 25 years and counting, Gontis has eight children. Three are still in school, while the five oldest children are in college or working. His parents live in Punta Gorda, and a sister is also nearby, so he was not unfamiliar with the area before recently moving his family to the Sarasota area.
The Office of Evangelization is currently organizing a Diocesan Eucharistic Congress and Youth Rally for March 24-25, 2023, a large event in Fort Myers that is part on the ongoing National Eucharistic Revival. The Revival is an initiative of the U.S. Conference of Catholic Bishops to reaffirm a devotion to the Real Presence of Jesus in the Eucharist.
In addition, the office is also hosting a "Together in Holiness" Marriage Conference on Oct. 22 in Fort Myers as well as planning a Diocesan pilgrimage to World Youth Day 2023 in Portugal. Please visit www.dioceseofvenice.org for information about these and other events.
"As important as those events are, evangelization is not just about these mountaintop experiences," Gontis explained. "The Parish is the primary focus of our work, building up the Faith – this is done through programs that reach out to support marriage, as well as youth and young adults. We know the family is a foundation of the Church, but at the same time we will work hard to keep youth and young adults engaged in the Faith, reminding them that they are not only the future of the Church, but they are also the present of the Church, crucial to the renewal of the Faith."
James Gontis is the Diocesan Director of Evangelization and can be reached at 941-484-9543 or gontis@dioceseofvenice.org.