By Mary Brown, Pope St. John XXIII National Seminary – Special to the Florida Catholic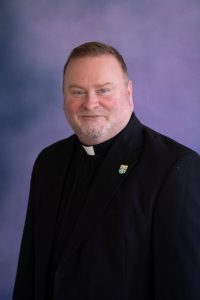 There was recently a ray of light and hope to be found at Pope St. John XXIII National Seminary, Weston, Mass., amidst the darkness and confusion that has been surrounding the world lately. On the evening of March 24, in conjunction with sung Evening Prayer, nine men who have dedicated themselves to three years of seminary formation, made the Profession of Faith and Oath of Fidelity.
These men, including Diocese of Venice Seminarian Mark Harris, come from nine different Arch/dioceses. Harris will be ordained a Transitional Deacon on April 15 at the seminary. After one more year of formation, he is expected to be ordained to the priesthood.
Making the Profession of Faith and the Oath of Fidelity, with one's hand placed on a Bible, is a requirement in order for a man to become a Transitional Deacon within the Catholic Church. Anyone who is given a position of leadership in the Catholic Church is required to do so. For example, a pastor taking leadership of a Parish or a priest joining the seminary faculty is required to make the profession and oath. There are many other Church positions that require one to make this profession and oath, but for these nine men especially, it was another step towards their becoming a priest.
By making this Profession of Faith, they are publicly promising a full acceptance of and commitment to all the articles of the Catholic Faith plus all that is encompassed within in the magisterial teachings of the Church. The main part of the profession is the recitation of the Nicene Creed, which all Catholics profess at Sunday Mass.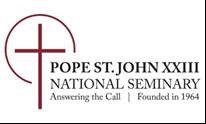 The Oath of Fidelity is a public promise to carry out their responsibilities in communion with the Church by following and obeying all Church teachings and laws. They promise to live out their faith fully in obedience to their bishops.
These men embody the commitment that it takes to follow their calling to become Catholic priests. We are honored that nine men have continued to commit to this journey and are thankful for the light that they provide to the Catholic community, especially in such trying times in the world. We are grateful to them and ask all to keep them in their prayers so that they may fully experience the joy of priesthood.
The Pope St. John XXIII Seminary community is committed to our founding mission: the human, spiritual, academic and pastoral formation of candidates aged 30 and older.