The four Diocese of Venice Catholic high schools graduated 416 into the world during a three-week span in May 2023.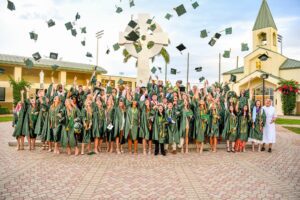 This group, as they are each year, is impressive for their accomplishments earned through sacrifice, hard work and commitment in mind, body and soul.
Bishop Frank J. Dewane celebrated the four different Baccalaureate Masses and noted how the Diocese is proud of the graduates and made a point to recognize the role of parents and grandparents of the graduates as well as gratitude for entrusting their children to Diocesan Catholic high schools for their education.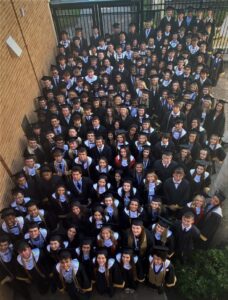 "It is my prayer that the academic and spiritual education you each received will serve to guide you into the future as men and women of God," Bishop Dewane said.
An astounding 99 percent of the graduates are heading off to higher education at some of the top colleges and universities in the land. Dozens were recognized for their academic prowess with many graduating with honors. Of note, four have opted to join the military and one accepted an appointment to the U.S. Naval Academy.
As a group, these graduates gave back to the community with more than 52,000 service hours while also garnering more than $43.2 million in scholarship offers.
In addition to academic awards, many of these students were scholar athletes with several earning state titles in a variety of sports. More than 50 of the graduates were offered scholarships to continue their athletic career at the next level.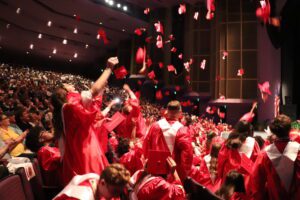 These results are even more striking when you realize the Class of 2023 was completing its freshman year in high school when the Covid-19 global pandemic struck. In addition, these students also endured the impacts of Hurricane Ian on Sept. 28, 2023. The storm damaged the homes of the families of many students throughout the region, with the worst impacts in Lee, Collier, Charlotte and Sarasota counties.
At Cardinal Mooney Catholic High School in Sarasota, the graduation was May 12, and the Valedictorian was Michael Ramsamooj and Salutatorian was Michael Yencik. The Baccalaureate Mass was celebrated at Incarnation Parish in Sarasota on May 11.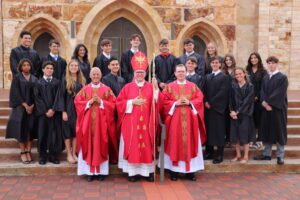 The St. John Neumann Catholic High School Commencement Exercises were May 21 at the Naples school, with the Baccalaureate Mass at St. William Parish on May 20. The Class Valedictorian was David Schummer and the Salutatorian was Isabella Fernandez.
The graduation for Bishop Verot Catholic High School in Fort Myers was May 22, with the Baccalaureate Mass at St. Katharine Drexel Parish in Cape Coral. Verot had 38 students recognized as top graduates, and among those, Caroline O'Halloran presented the introductory address, and the commencement address was by Cameron Caangay.
The Donahue Academy of Ave Maria Catholic School graduation was May 26 at the school in Ave Maria, with the Baccalaureate Mass at Ave Maria Parish. Andrew Graham was the class Valedictorian and Michael Long was the Salutatorian.