José Grullón and David Portorreal followed different calls of the Lord in their lives, but their answers were the same, leading the two Diocese of Venice seminarians on a journey toward the priesthood. The pair reached a major milestone along that path on April 17, 2021 when they were ordained Transitional Deacon.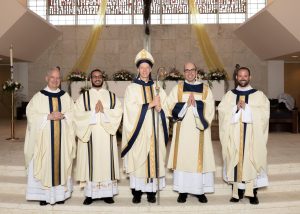 Deacons Grullón and Portorreal were among nine ordained at St. Joan of Arc Catholic Church in Boca Raton by Most Rev. William A. Wack, CSC, Bishop of the Diocese of Pensacola-Tallahassee. The men, from different Dioceses across Florida, are currently studying at St. Vincent de Paul Regional Seminary in Boynton Beach.
Deacon Grullón said he was thrilled about the Ordination, acknowledging how it is only the end of one stage in his priestly formation which is opening many different opportunities of service to the Lord that come with this new ministry.
"Priestly ministry is all about relating to the Lord and translating that experience daily in a way that the people of God are also inspired to grow closer in their relationship with Him," the new Deacon added. "I love being able to serve the people in different capacities: service in itself is a way in which I encounter the Lord through others."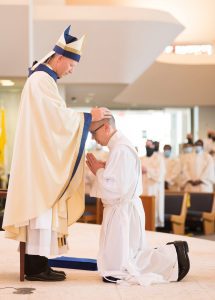 For Deacon Portorreal, the experience of Ordination was both exciting and surreal. "Time is flying by and there's so much to learn, but I'm grateful. I look forward to serving the People of God to the best of my ability."
As he continues in his studies and discernment, Deacon Portorreal prays that he will become a loving, compassionate, competent, and holy priest who is present to the faithful.
The first of three ranks of ordained ministry in the Church, deacons perform many services to the Church in conjunction with the ministries of priests and bishops. In Parish life, deacons may preside at baptisms, weddings and rites of Christian burial, assist the priest at Mass, proclaim the Gospel and deliver homilies.
In his homily, Bishop Wack explained how Jesus Christ is revealed in them and through them. "Jesus Christ, the Word made Flesh, is present to us in word and sacrifice. Now, He calls you to be bearers of the word and servants of the Gospel."
In their promise of celibacy, Bishop Wack said they are single heartedly devoted to God and His Church. While this commitment may seem strange to outsiders, it allows them to open up to others in a very radical way and thoroughly joyful way. Later, when they prostrate themselves on the floor before the altar, in the midst of their family and friends, it is a sign of complete surrender and obedience.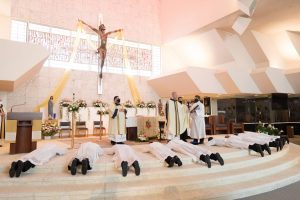 "I'm sure you join me as you marvel not so much as what you are doing today but what God is doing to you," Bishop Wack continued. "This is about what God is doing in you. We celebrate God's work in you and through you today. The Spirit conforms you more fully to Christ, the One who came not to be served but to serve and to give His life as a ransom for the many… You may ask, how can I know the Lord, experience His presence, or know God loves me. You are God's answer to those questions – Here I am, send me."
Following the homily, the men approached Bishop Wack one-by-one, knelt and promised respect and obedience to his Bishop and his successors. To signify humble submission before God, the men then lay prostrate in the sanctuary while the assembly sang the Litany of Saints.
The ordinations were complete after each man again approached the Bishop who imposed his hands on the candidate and proclaimed a prayer of consecration, to confer the Holy Spirit to guide their ministries.
The Deacons then received a stole and dalmatic (the exterior garb of a deacon), signifying the Office of Diaconate and the deacon's role in the celebration of the Eucharist.
Next, the newly ordained Deacons knelt before the Bishop who presented them with the Book of the Gospels as a symbol of their new ministry of proclaiming the Gospel and preaching. The Rite of Ordination concluded with the kiss of peace.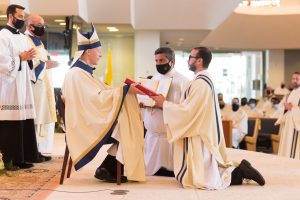 Deacon Grullón, 33, was born and raised in Santo Domingo, the capital of the Dominican Republic. He earned university degrees in business in the Dominican Republic and worked in a financial institution as a credit analyst. Born a Baptist, Deacon Grullón entered the Catholic Church in 2012 having been inspired by studying the history of Christianity. Once a Catholic, he began serving in his local Parish in different capacities, participating daily in the Eucharist, and the example of hard-working priests made him consider the priesthood. He studied philosophy at Pedro Francisco Bonó Institute in Santo Domingo, which is affiliated to the Pontifical Gregorian University that conferred his degree.
It was in 2017 when Deacon Grullón entered the United States to study at St. Vincent De Paul Regional Seminary for the Diocese of Venice. As a seminarian, Deacon Grullón has had pastoral assignments at Our Lady Queen of Heaven Parish in LaBelle and Epiphany Cathedral in Venice, as well as assisting at St. Elizabeth Seton Parish in Naples during other breaks from school.
Deacon Portorreal, 49, grew up in Ohio attending Jesuit-run Catholic schools in Cleveland before entering film school at Florida State University. He moved to Los Angeles to try to break into the film industry trying to sell screenplays, get acting jobs and even tried his hand as writer/director. The seeds of a priestly vocation were planted in grade school and as the years passed there was a growing restlessness that the Ministerial Priesthood was what God wanted in his life.
Initial studies for priesthood for Deacon Portorreal began for the Archdiocese of Los Angeles at St. John Seminary in Camarilla, California, but his parents are retired in Florida and so he transferred to become a seminarian within the Diocese of Venice. As a seminarian, Deacon Portorreal has had pastoral assignments at St. William Parish in Naples and St. Leo the Great Parish in Bonita Springs.
Please pray for these men as to continue their spiritual journey.