Men's Conference Feb. 20 in Fort Myers
There is still time to register for the 2021 Diocese of Venice Men's Conference on Feb. 20, at Bishop Verot Catholic High School, 5598 Sunrise Drive, Fort Myers. Featured speakers include Patrick Madrid and Joel Stepanek. Madrid hosts the "Patrick Madrid Show" radio program on Relevant Radio each weekday, is the author of 26 books, including "Why be Catholic?" and is a research fellow of the St. Paul Center for Biblical Studies. Stepanek is also an author and the Vice President of Parish Services for Life Teen International where he guides several teams that support Catholic parishes in creating and sustaining vibrant youth ministries that form passionate Catholic evangelists and disciples. The Conference is 9 a.m. to 3 p.m. (doors open at 8 a.m.) with Mass celebrated by Bishop Frank J. Dewane. Confession will be available all day. For more information or to register visit www.dioceseofvenice.org/adultconferences.
"A Seminarian Story" seventh installment available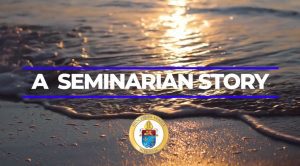 The Diocese of Venice in Florida Office of Vocations launched a video series titled, "A Seminarian Story," to celebrate the 16 Seminarians currently in formation for the Diocese. The first seven videos have been released and more will follow approximately every few weeks. The most recent video is about Seminarian Alan Baldarelli who is in formation at St. Vincent de Paul Regional Seminary in Boynton Beach and is currently serving a Pastoral Year at Epiphany Cathedral in Venice. Developed with the assistance of the Diocese Communications Department, the goal of the series is to inspire others to follow in the path to the priesthood or religious life, as well as encourage the faithful to continue to support the seminarians as they continue their formation process at different seminaries. "A Seminarian Story" featuring David Alan Baldarelli can be found at https://vimeo.com/508944522.
Order of Malta holds retreat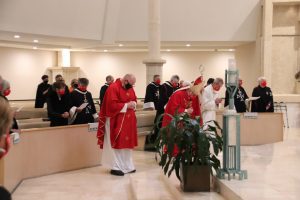 The Knights and Dames of the Order of Malta took part in a retreat which began with Mass celebrated by Bishop Frank J. Dewane on Feb. 5, 2021 at St. Ann Parish in Naples. The retreat was led by Father George Ratzmann, Pastor of St. William Parish in Naples.
40 Days for Life begins Ash Wednesday
Join other Christians from Ash Wednesday, Feb. 17 through March 28, for the spring 40 Days for Life campaign. This Campaign encompasses 40 days of prayer and fasting for an end to abortion. Stand and peacefully pray during vigils in the public right-of-way outside Planned Parenthood in Fort Myers or Sarasota. For more information, go to www.40daysforlife.com and click on the location nearest you.
Migrant Care Grants deadline Feb. 28
Grant requests for funding of projects in 2021 are available from the Foundation for the Care of the Migrant Poor now and need to be submitted no later than Feb. 28, 2021. To be considered by the Board of Directors for a Grant, the project must clearly be seen as a service to the migrant poor or new immigrants. Preference will be given to those projects under Catholic auspices. Applications can be submitted by going to the Foundation page on the Diocese website at https://dioceseofvenice.org/offices/organizations/foundation-for-the-care-of-the-migrant-poor/.
Ash Wednesday Day of Prayer
Our Lady of Perpetual Help Retreat and Spirituality Center, 3989 S. Moon Drive, Venice, is offering its Monthly Day of Prayer on Ash Wednesday, Feb. 17, 2021. The day begins at 9:30 a.m. and includes two conferences, a simple lunch, Eucharistic Adoration, Mass with distribution of ashes, and opportunities for the Sacrament of Reconciliation in a safe, tranquil setting along the Myakka River. For more information or to register, please call 941-486-0233 ext. 3004, or visit the website at www.olph-retreat.org and click on "Schedule of Events."