Michelle Lupescu, a seventh-grade student at St. Joseph Catholic School in Bradenton, won the Florida State Council of the Knights of Columbus Spelling Bee in Kissimmee on Feb. 6, 2021.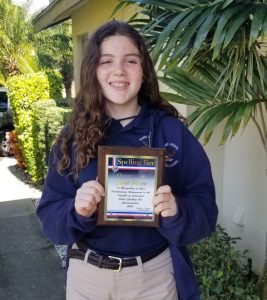 Michelle began the competitions at the local level with the Knights of Columbus St. Joseph Council 5604, based in Bradenton. She came in first for the seventh and eighth grade division at the school, district, and regional competitions, before moving on to the state level. The competition is held annually for private and Catholic schools throughout the state. The state level competition includes the top spellers from each of the Florida regions.
She credits much of her success to her language skills. Michelle's family is from Romania and English is her second language.  In addition, she is enrolled in High School Level Spanish I at St. Joseph Catholic School.
Michelle appeared calm and confident even when she faced multiple rounds with the second and third place winners. Many of the adults in the room were commenting that they would have missed several of the words these students spelled with ease.
Principal Deborah Suddarth of St. Joseph Catholic School was present and congratulated Michelle, praising her excellent academic achievements that led to her victory. The general programs director for the Florida State Council of the Knights of Columbus, presented Michelle with a plaque and a $125 check.
Michelle is the daughter of Rev. Fr. Ioan Lupescu, a Romanian Orthodox priest, and Cami Lupescu.