The Sacrament of Holy Matrimony is a sacred bond between a man and a woman which reflects the honor, love, commitment and fidelity each demonstrates for the other.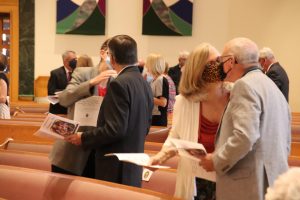 In celebration of that commitment each year Bishop Frank J. Dewane invites couples married 25, 30, 35, 40, 45 and 50+ years to a Mass in their honor as witnesses to a beautiful vocation for younger generations to see and admire.
"I stand before you truly joyful and truly humbled by the commitment you live each day," Bishop Dewane said Feb. 6, 2021 at one of two Masses celebrated at Epiphany Cathedral in Venice. "It is not just a celebration of the numbers you have accomplished, but of your presence here today and to your dedication, one to the other. You wouldn't be here if Christ wasn't at the center of your commitment to each other."
As examples for others within their own family and society, the Bishop said that the life that married couples live, in kindness and fruitfulness, is unique in what it contributes to society.
"You have made society rich – with your forgiveness, compassion and love for one another," Bishop Dewane added. "Know that the Lord sees that and gives you the strength to be that example; the silent preachers of something that is good and permanent."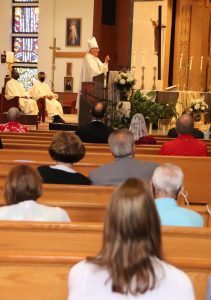 Masses are celebrated each year in the northern and southern sections of Diocese of Venice so as to accommodate those wanting to attend. In 2021, to allow for social distancing due to the COVID-19 Pandemic, two Masses were celebrated Feb. 6, 2021 at Epiphany Cathedral in Venice. An additional two Masses, at 10 a.m. and noon, on March 6, 2021, will be celebrated at St. Leo the Great Parish in Bonita Springs. (Registration is through your Parish.)
For the two Masses in Venice, there were 126 couples present – married a combined 6,571 years – with six celebrating 70 or more years of marriage. The longest married couple was Donald and Nonna Rassier of Epiphany Cathedral. On Oct. 2, 2021, they will celebrate their 73 years together.
During the Mass, the married couples renewed their wedding vows. In addition, each couple was presented with commemorative certificates, signed by the Bishop, for their enduring commitment to marriage.
Alex and Lynn Franklin of St. Patrick Parish in Sarasota have been married for 40 years and have four children and 12 grandchildren.  Lynn Franklin was thrilled to be present for such a beautiful Mass and thanked Bishop Dewane for ensuring the Mass took place even during the Pandemic.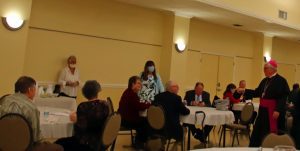 The couple credits their longevity to their faith and communication. "We talk about everything, openly and honestly," Lynn Franklin explained. "She means everything," Alex Franklin quipped. Lynn quickly added that by communicating the couple remains focused on their life together. "It is a good life, grounded in our love of God and our whole family."
A reception followed the Mass with lunch and the opportunity to have complimentary pictures taken with the Bishop.
Present for the Mass were six couples celebrating 70 or more years of marriage:
73 years
Donald and Nonna Rassier, Epiphany Cathedral;
71 years
James and Maria Nixon, Epiphany Cathedral;
Leon and Ann Reser, St. Francis of Assisi Parish, Grove City;
70 years
Thomas and Dolores Mortorana, Epiphany Cathedral;
John and Rita Riebel, Epiphany Cathedral;
Russell and Gianina Stanley, St. Bernard Parish, Holmes Beach.
Also present were two couples celebrating their anniversary on the day of the Mass:
Ken and Diane Neyer, Epiphany Cathedral, 50th Anniversary; and Guido and Sharon Leutem, Ss. Peter and Paul the Apostles Parish, Bradenton, 61st Anniversary.