Behind all of the fun and games which take place during the celebration of Catholic Schools Week each year is faith, which shines forth in everything that is done at all 15 of the Diocesan Catholic schools.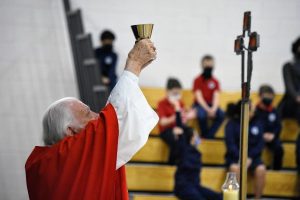 Catholic Schools Week 2021 ran from Jan. 31- Feb. 6 with each day focused on different themes, including celebrating the students, faculty and staff, families, Parish, vocations, community and nation.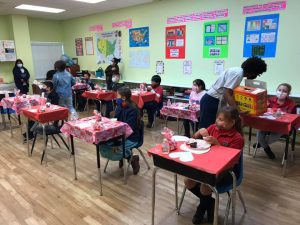 Using those broad topics as a springboard for different activities, the more than 4,600 students took part in fields days, STREAM (science, technology, religion, engineering, arts and math) activities, academic competitions, collections for the needy, chances for prayer and reflection as well as the celebration of Mass.
Father John Belmonte, SJ, Superintendent of Catholic Education for the Diocese of Venice, celebrated Mass at several Diocesan schools throughout the week. Father delivered the message of how Catholic schools are places of big dreams, bigger than academic or athletic success, but in fact they are where students will grow and deepen in their Faith.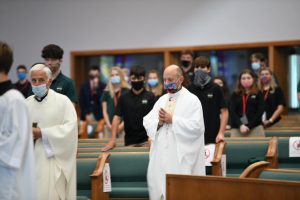 "You are Catholic School students, born to follow your dreams, born to stand out, not stand back," Father Belmonte told students at St. John Neumann Catholic High School on Feb. 2, 2021. Father stressed that Catholic school students must be known for their Faith. This obligation manifests itself in the way each student prays and believes; in how they make the world a better place; the service they render to the poor and needy; their intellect; and in the peace and love that they desire.
"Everyone should have evidence of the dreams that you have," Father continued. "We long for Jesus Our Savior. We will meet Our Lord in this church right here at this altar. Let us receive Him into our hearts and souls, realizing this dream every time we celebrate the Most Holy Eucharist."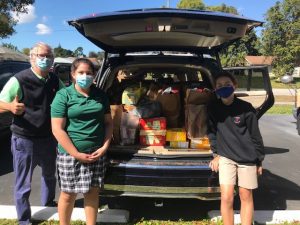 In addition to participating in Mass during the week, schools also prayed the rosary. At St. Joseph Catholic School in Bradenton students wrote prayers for safety during the Pandemic, as well as prayers for their families, teachers, friends and country. The prayers were linked together to form a chain that circled the campus as a reminder that God is with them each day. At the Donahue Academy of Ave Maria, the entire student body participated in an outdoor Eucharistic Procession.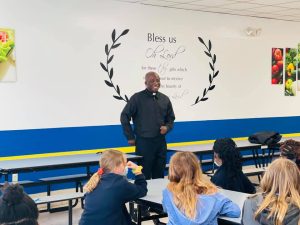 Each school had a day focused on celebrating vocations with most inviting a priest or religious to speak to students. This was done either in person or through a video chat. This time of sharing allowed the students to learn that these men and women have similar interests, but also how they chose to serve God by answering a call to a life in the priesthood or religious life. Some schools wrote letters to the priests and area religious, thanking them for the support of the faith-life at the school.
Throughout the week many schools also helped to give back to the community by collecting food, blankets or toiletries which were then presented to area charitable organizations.
This is only a small sample of what took place during Catholic Schools Week 2021 with the Diocese. Check with each school's social media accounts to see descriptions and images from throughout the week.
To learn more about Diocese of Venice Catholic Schools, please visit www.dioceseofvenice.org/catholicschools.