Seminarian elevated to Acolyte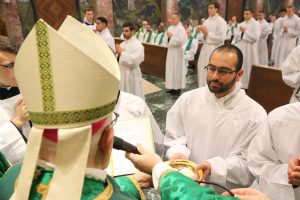 Diocese of Venice Seminarian Christian Chami received the Ministry of Acolyte Feb. 22. Chami is discerning his vocation to the priesthood while studying at Pontifical North America College in Rome and was part of a large group of second-year seminarians at the North American College to be elevated to Acolyte. Archbishop J. Augustine Di Noia, O.P., Adjunct Secretary of the Congregation for the Doctrine of the Faith, was the principal celebrant for the Mass in the Immaculate Conception Chapel. As part of the rite, the Archbishop placed the paten, which contains the hosts for the celebration of Mass, in the hands of each candidates and said, "Take this vessel with bread for the celebration of the Eucharist. Make your life worthy of your service at the table of the Lord and of his Church."
Vocation Awareness Weekend March 13-15
St. John Vianney College Seminary in Miami is hosting a Vocation Awareness Weekend from March 13-15. This seminary visit is open to young men, ages 18 and older. It is an engaging time of prayer, talks, sports, and other fun activities with the seminarians and priests of St. John Vianney. Come and experience what life is like for one discerning God's call to the priesthood! There is no cost for the weekend and transportation is provided. To register, please contact the Vocations Director, Father Shawn Roser, at roser@dioceseofvenice.org or call the Vocations Office at 941-484-9543.
Parish Gala honors priests' 80th birthday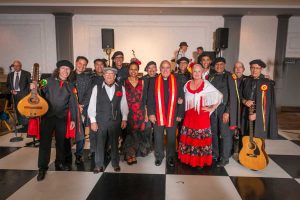 The 16th Annual St Jude Gala event took place Feb. 14 at Michael's On East in Sarasota.
Nearly 200 guests were present to raise money for the various Parish programs. This year was of particular note because it was time to celebrate the 0th birthday of Pastor Father Celestino Gutierrez. There was entertainment from our parishioners who sang English ballads, a Spanish medley of various songs and dances. There was also a cake with sparklers.
Traditional Marriage Public Square Rosary Crusade March 21
All are invited to participate in Traditional Marriage Public Square Rosary Crusade at 11:45 a.m., March 21, at 6418 Commerce Park Drive, Fort Myers. The rosary crusade will be taking place simultaneously across the nation as God's marriage and the traditional family need our prayers. For more details, contact Barb 239-267-7883
Spiritual Exercises in Spanish
Ignatian Preached Retreats in Spanish are now being offered at Our Lady of Perpetual Help Retreat Center. These series of meditations, prayers, and contemplative practices are in silence. There will be a Level 1 Retreat for Women on the weekend of April 3-5, and one for Men on the weekend of May 1-3. There will also be a Level 2 Retreat for Women on the weekend of July 10-12 and one for Men on the weekend of July 17-19, for those who participated in the Spiritual Exercises in 2019.  Please visit www.dioceseofvenice.org/calendar for further information.  (CLICK HERE for the flier in Spanish.)
Ejercicios Espirituales En Español
Retiros Predicados Ignacianos en Español están siendo ahora ofrecidos en Our Lady of Perpetual Help Retreat Center. Estas series de meditaciones, oraciones y prácticas contemplativas son en silencio. Habrá un retiro Nivel 1 para Mujeres del 3 al 5 de abril y para Hombres, del 1 al 3 de mayo.  Habrá también un retiro Nivel 2  del 10 al 12 de julio para Mujeres y del 17 al 19 de Julio para Hombres, para aquellas personas que participaron en los Ejercicios Espirituales en 2019.  Para más información por favor visite www.dioceseofvenice.org/calendar. (Haga Clic Aquí para ver poster en Español.)
Friday Fish Fry at Cathedral
Epiphany Cathedral is hosting a weekly Fish Fry from 5-7 p.m., Fridays of Lent through April 3, in the Parish Hall at 224 Harbor Drive, Venice. Meal options include $13 fired fish dinner, $15 baked salmon dinner, $15 fried shrimp dinner and $6 kids fried fish dinner. Meals include coleslaw, roll, drink and dessert plus your choice of French fries or boiled red potatoes.  Takeout orders are available. Purchase tickets at the door or online at www.ecstigers.com/support-ecs/knights-fish-fry All proceeds benefit Epiphany Cathedral Catholic School.  Catering is by Sharky's on the Pier, Fin's at Sharky's and Snook Haven.  The event is sponsored by the Knights of Columbus Council 7052. For more details, call 941-615-0284.
Catholic Homeschool Conference
Queen of Angels Academy presents the 2020 Catholic Homeschool Conference May 27-28, at Christ the King Parish, 1900 Meadowood St., Sarasota. Guest speaker Laura Berquist will speak on: What is a classical education; Positive homeschooling: Getting the hearts of your children; Why I homeschooled my children; and a Discussion: Purpose and Practice. The cost is $20 per person for both days, $30 per couple. Contact www.queenofangelsacademy.com for a more information and to register.