There was a Bourbon Street for the annual Celtic Ball which was held on Feb. 21 at Club Pelican Bay in Naples benefiting St. John Neumann Catholic High School.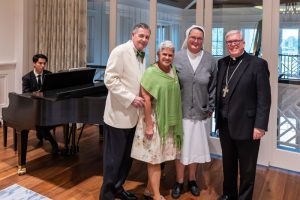 The event included a Mardis Gras theme and décor which added to the festive atmosphere. There were live and silent auctions, an elegant dinner and live music.
Neumann Senior Rhea Hussey spoke on behalf of her fellow Celtics. She shared her journey of overcoming obstacles from being seriously ill and bed ridden as a freshman, to now being one of four House Captains, a leader of not just the senior class, but the entire school.
"I have been given the chance to participate in numerous service activities, to learn in an environment of unparalleled academics and thrive in a place where I formed irreplaceable friendships; there is no place I would rather be," Rhea said. "I will always be grateful to the Neumann family for allowing me to learn, grow and truly shape myself into the person I always wanted to be."
The Celtic Ball Honorary Chairs were Jo and Tom O'Reilly. Tom O'Reilly praised the school for forming students not just academically, but spiritually, noting that his children and now grandchildren are students at Neumann.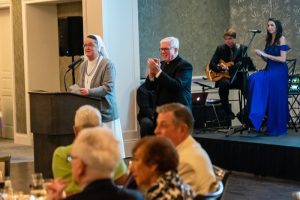 Bishop Frank J. Dewane applauded the Salesian Sisters of St. John Bosco who serve at St. John Neumann for their unfailing commitment to education and for the example they are for their students and the entire school community.
"Neumann is a bright star in Naples," Bishop Dewane said. "To the parents and benefactors of St. John Neumann; I thank you for recognizing the good work that is happening here. A Catholic School is more than its faculty and staff, it is about coming together and supporting a program that helps to grow the next generation of leaders in the community and in the faith."