Diocese of Venice Seminarian Christian Chami took a major step toward his dream of becoming a priest when he was ordained to the Transitional Diaconate during a Mass Sept. 30, 2021 at the Altar of the Chair of St. Peter, in the Papal Basilica of St. Peter in the Vatican.
Celebrated by Cardinal Wilton D. Gregory, Archbishop of Washington, D.C., the ordination of 20 men from the Pontifical North American College is one of the final steps toward priesthood.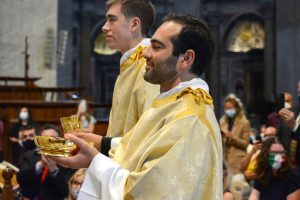 Present for the ordination were Deacon Chami's immediate family and a few from his extended family. Also present in Rome was Bishop Frank J. Dewane who was one of the principle concelebrants; Father Alexander Pince (ordained in July 2021 and is completing his studies in Rome); as well as Diocesan Seminarians Daniel Scanlan (the cross-bearer for the Ordination Mass) and Joseph Doherty who are both studying at the Pontifical North American College.
Deacon Chami, 28, was born in Montreal, Canada, and was raised in Naples, and is a graduate of Florida State University where he first heard the call for a vocation to the priesthood.
"It popped up once at 17, but I really didn't want to be a priest then, and the Lord also gave me a grace to wait," Deacon Chami said. "I was well formed by the Brotherhood of Hope at Florida State, a religious order which runs the Catholic Student Union. They taught me how to pray with Scripture, pray silently, and how to properly discern."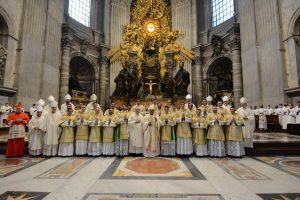 He became a seminarian for the Diocese of Venice in 2016, first attending St. John Vianney College Seminary in Miami before being selected to get his advanced studies at the Pontifical North American College. There he earned a degree in sacred theology from Pontifical Gregorian University and is working on his license in sacramental theology at the Pontifical Athenaeum of St. Anselm.
During the ordination, the new Deacons promised to live a life of prayer, celibacy, and obedience to their Diocesan Bishops. The new Deacons will have an additional year of theological studies and spiritual formation before being ordained to the priesthood in their home Dioceses. As part of the ordination rite, the Bishop placed the Book of Gospels in the hands of each candidate being ordained and said: "Receive the Gospels of Christ, whose herald you have become. Believe what you read, teach what you believe, and practice what you teach."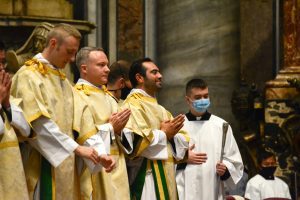 In his homily, Cardinal Gregory pointed out that although the first Deacons of the Church did not have to go through years of formation and pass exams in Scripture, Moral Theology, Church History, and Liturgy, Deacons then as now were required to "demonstrate by their lives that they were men of integrity, responsibility, holiness, and trustworthiness." He emphasized that "public ministerial office for people of Faith is no casual undertaking – for the ancients and most certainly not for us." With that in mind, he affirmed that the Church has always held its clergy to high standards of holiness and personal responsibility. The Cardinal added that a Deacon must be "a man of charity, (with) real and heartfelt compassion and concern for the poor, the neglected and the marginalized members of our world. A Deacon without a heart for charity will be a hollow and worthless son."
Deacon Chami said that he was mostly at "peace with the ordination, but every once in a while, the weight of ordination would make itself felt. I mean, our Faith is a mystery, so the reception of such a weighty Sacrament in the Diaconate which is the confirmation of a man by sacred orders to Christ's servanthood is pretty heavy. Thankfully I know the Good Lord will do the heavy lifting."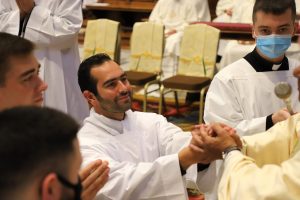 Since joining the Diocese as a seminarian, Deacon Chami has served pastoral assignments at St. Leo the Great Parish in Bonita Springs, Incarnation Parish in Sarasota, Ss. Peter and Paul the Apostles Parish in Bradenton and St. Francis Xavier Parish in Fort Myers.
Please pray for Deacon Chami and each of the Diocese of Venice Seminarians who continue in discerning their vocation and formation for the priesthood.
Catholic News Service contributed information to the report.