2 Diocesan Seminarians to be ordained Transitional Deacons April 17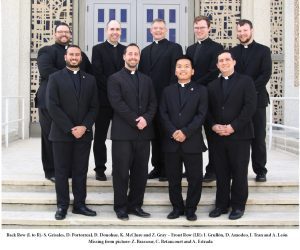 Diocese of Venice Seminarians José Grullón and David Portorreal are among a group of nine who will be ordained as Transitional Deacons at 11 a.m., April 17, 2021 at St. Vincent de Paul Regional Seminary in Boynton Beach. His Excellency, Bishop William A. Wack, CSC, Bishop of Pensacola-Tallahassee, will ordain the men and the liturgy will be livestreamed at www.svdp.edu/live from St. Joan of Arc Parish in Boca Raton. As newly ordained Deacons, these men will be assigned to Parishes where they will exercise their ministry in preparation to become priests in the following year. Among many duties, they will preach, perform baptisms, witness marriages, as well as preside over wakes and funerals.
Cape Coral students at state competition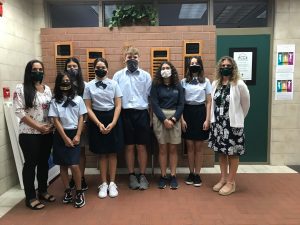 A team of seven St. Andrew Catholic School students from Cape Coral competed on March 13, 2021 in the Florida Odyssey of the Mind State Competition at the Orlando Convention Center. The team took the judges to a magical storybook land by building a life-sized magical beanstalk which appeared to grow using a combination of springs, magnets, and an intricate pulley system.  They proudly took 4th place in the State Finals and will be moving on to compete in The Odyssey of the Mind World Finals which will take place in Orlando in the upcoming months. These students began preparing their solution in September of 2020 and have worked hard throughout the course of the 2020-2021 school year. Team members were: Addison Baker, Kiley Lebid, Ryan Peterson, Ellianna Trunkett, Ana Cerna, Laura Cerna and Isabella Smith.
Evangelizing Catechesis: Survey of the new Directory for Catechesis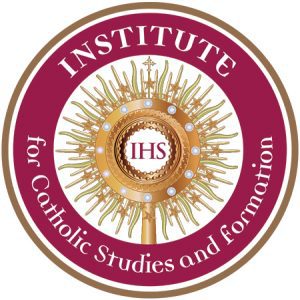 The Diocese Institute for Catholic Studies and Formation is offering an online course surveying the new how-to guide, the Directory for Catechesis, published by the Vatican in 2020. This new edition of the Directory emphasizes how to incorporate evangelization throughout the entire process of catechesis. This course is for Directors and Coordinators of Religious Education, catechists, schoolteachers, adult faith formators, RCIA teams, parents — anyone who teaches the Faith. Co-teachers of the course are Dr. John Gresham, Director of the Institute for Catholic Studies and Formation, Anne Chrzan, Director of Religious Education for the Diocese of Venice, and Joshua Mazrin, Director of Evangelization for the Diocese of Venice. The six-week course starts April 19, 2021. There is a $25 fee to take the course. Visit the Institute website for more information and to register at www.institute-dov.org or contact the director for more information: john.gresham@institute-dov.org.
Marriage Prep Retreat for Couples over 55 coming soon
The Office of Family Life is hosting a one-day sacramental marriage preparation retreat for those couples over 55 years of age who are preparing for marriage or convalidation, from 9 a.m. to 5 p.m., April 24, 2021 at Our Lady of Lourdes Parish, 1301 Center Road, Venice. Lunch is included. The program builds an appreciation for the joy of Sacramental Marriage while offering insight and tools to address the unique challenges and responsibilities. Registration is required at https://dioceseofvenice.regfox.com/two-become-one.
Youth Mental Health First Aid Workshop
Youth Mental Health First Aid is designed to teach Priests, Deacons, Seminarians, Directors of Religious Education, Youth Ministers, Principals and Teachers how to help an adolescent (age 12-18) who is experiencing a mental health or addictions challenge or is in crisis. Youth Mental Health First Aid is primarily designed for adults who regularly interact with young people. The course introduces common mental health challenges for youth, reviews typical adolescent development, and teaches a 5-step action plan for how to help young people in both crisis and non-crisis situations. The course will be held on April 29, 2021 from 8:30 a.m. to 4:30 p.m. at St. Agnes Parish, 7775 Vanderbilt Beach Road, Naples, and on May 1 from 8 a.m. to 4 p.m. at Our Lady Queen of Martyrs Parish, 833 Magellan Drive, Sarasota. Advanced registration is required, and the cost is $25. Visit www.dioceseofvenice.regfox.com/workshop-on-youth-mental-health-first-aid for registration. The cost includes the book, lunch and certificate of completion.
Porn: Seven Myths Exposed event May 4
The porn industry has taken our culture hostage! The Diocese of Venice Family Life Office is hosting an event at 6:30 p.m., May 4, 2021 at the Epiphany Cathedral Parish Hall, 399 Sarasota St., Venice, to address and educate teens, parents and all others on the tyranny of pornography in our society. Matt Fradd is the speaker who has authored and coauthored several books, and creates and hosts the podcast, "Pints with Aquinas". There is no cost to attend. For further information, please contact Carrie Harkey at harkey@dioceseofvenice.org or 941-484-9543.
Stepping into Marriage with Children
Did you know 60 percent of second marriages fail and the failure rate increases to 70 percent when there are children from a previous marriage in the home. The difficulties of parenting and stepparenting seemingly insurmountable are often the root cause of such failures. A free half day workshop, organized by the Diocese Office of Family Life, entitled "Stepping into Marriage with Children" is designed for those couples beginning or currently in a stepfamily situation, and will take place from 9 a.m. to noon, May 15, 2021 at Our Lady of Light Parish, 19680 Cypress View Drive, Fort Myers. This workshop takes a realistic look at blended families and offers strategies and tools to meet unique challenges. There is no cost to attend but registration is required at https://dioceseofvenice.regfox.com/stepping-into-marriage-with-children. For further information please contact Carrie Harkey at harkey@dioceseofvenice.org or 941-484-9543.
Year of the Family
On March 19, 2021, the fifth anniversary of the Apostolic Exhortation Amoris Laetitia, on the joy and beauty of familial love, Pope Francis inaugurated the year "Amoris Laetitia Family" which will conclude on June 26, 2022 on the occasion of the next World Meeting of Families in Rome. When announced, the Dicastery said in a statement, "The Pandemic experience has highlighted the central role of the family as the domestic Church and has shown the importance of community ties between families". To learn more about the effort and the initiatives occurring in the Diocese of Venice during this commemorative year visit https://dioceseofvenice.org/year-of-the-family/.
Tele-Mental Health Counseling Services available
Catholic Charities, Diocese of Venice Inc. is offering Mental Health Counseling for adults and children provided by licensed mental health therapists. If you or someone you know are feeling stressed, anxious, overwhelmed, depressed or helpless, Catholic Charities can help. For more information, please call 239-455-2655.
Vaccines for Homebound Seniors
Seniors and/or their caregivers can sign up to receive a COVID-19 vaccine in their home by sending their request by email to HomeboundVaccine@em.myflorida.com. Also, Senior Friendship Centers (Sarasota, Venice, Fort Myers and Arcadia) has organized a program to connect seniors with volunteers who can drive them to their scheduled vaccine appointment. Anyone needing a ride to their vaccination appointment should contact Lillian Cleveland, Monday – Friday from 8 a.m. to 5 p.m. at 941-556-3223 or lcleveland@friendshipcenters.org. The above is for information purposes only and are independent programs. Inquiries should be directed to the email/phone numbers for each program.