The moral and ethical considerations families are faced with when confronting infertility are complex and can be difficult to understand.
The Catholic Church offers a wide variety of ethical options for couples seeking pregnancy through natural methods, including treatments for medical conditions. However, in vitro fertilization (IVF) raises serious moral and ethical objections for the Church.
To address this topic, which can be confusing, the Southwest Florida Guild of the Catholic Medical Association offered a two-lecture event entitled "Longing for Life: Catholics, Infertility, and IVF," presented by Father Tadeusz "Tad" Pacholczyk, PhD, the senior ethicist of The National Catholic Bioethics Center.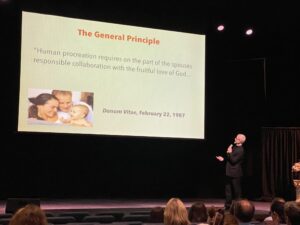 The lecture, which took place on Oct. 7, 2023, at Ave Maria University in Ave Maria, considered both a couple's natural yearning for offspring and the reason why IVF is morally objectionable. The conference also addressed potential alternative therapies to help resolve underlying causes of infertility, and related approaches that are ethically congruent with marital intimacy.
Bishop Frank J. Dewane provided the opening prayer and remarks for the lecture which he said was a unique opportunity to help Catholic couples learn about what the Lord asks of them, when there is a longing for life.
"We will hear a message of hope and pastoral support that we need to carry out to all those who we encounter," Bishop Dewane said.
Father Pacholczyk explained that when couples face infertility, they "don't always know what the Lord's plan is, but it is always a beautiful plan, if we are willing to say 'Yes!' to Him to whatever He opens before us."
At issue, is the fact that when a couple begins to investigate whether there are issues related to infertility, the default for some medical professionals is to simply encourage couples to turn to IVF or a related technique, Father explained.
"If you replace the marital act completely with a different act – like IVF always does – that does raise fundamental problems. You are no longer respecting the given order of human sexuality," Father Pacholczyk said.
Father pointed out that the ideal approach to resolving infertility involves identifying the underlying causes (endometriosis, fallopian tube blockage, etc. for women, and low sperm production, blockages or other factors for men) and addressing those causes so that marital intercourse can now result in a conception.
Couples should look into techniques that can methodically diagnose and heal the underlying reasons for infertility, Father Pacholczyk explained. He cited FEMM (Fertility Education & Medical Management, https://femmhealth.org), or NaProTechnology (Natural Procreative Technology, see http://www.naprotechnology.com). Both were created by Catholic OB/GYNs with great track records in helping to resolve underlying infertility issues and helping couples to conceive naturally.
The lecture by Father Pacholczyk was balanced by the personal testimony of Molly Hickey, a mother of four from Rochester, New York, who shared her personal journey through infertility, and the difficulties she faced while trying to find a morally ethical way to conceive.
Hickey started her journey by reading about the Catholic teaching about fertility intervention and was pleasantly surprised by how many different options are available that are in keeping with her strong Catholic moral code.
"Unlike the firestorm of ideas swirling on the internet, the Catholic Church offered a very specific, logical and concise set of guidelines," Hickey added.
Maternal desire fueled Hickey's journey as she wanted to be a mom to cherish and protect life. She was blessed to have doctors who offered different options, including a series of medications that resolved a medical condition she had.
"It wasn't easy, but it did eventually work," Hickey said. The birth of her first child in 2017, "brought such a renewal of hope. An incredible sense of faith for my husband and I, as we were proud of the decision we had made. We felt like, through our faithfulness to God, and doing what we thought was right, He really proved His faithfulness to us. The whole journey made me a better mother."
The Diocese of Venice Marriage and Family Office offers a variety of resources for couples who are facing fertility challenges. For more information, please contact Carrie Harkey at 941-484-9543 or harkey@dioceseofvenice.org, or visit https://dioceseofvenice.org/offices/offices-departments/familylife/.