As the school day wound down at St. Francis Xavier Catholic School in Fort Myers the sounds of barking, meowing and the stir of critters small and large echoed across the sports field.
It was Oct. 4, 2023, the Feast Day of St. Francis of Assisi, which has become synonymous with the "Blessing of Animals." According to history, the 12th century patron saint of animals and the environment spoke to the animals and treated them as members of his family.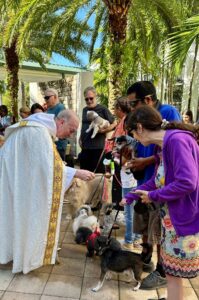 Students at St. Francis Xavier brought their dogs, cats, rabbits, hamsters, frogs and much more. These creatures were well loved and an important part of each family but also part of God's creation, explained Parish Administrator Father Steven Clemente.
Father Clemente led a brief prayer service and read a special prayer which recalls the words of the Old Testament Books of Genesis, Exodus, Kings and Jonah.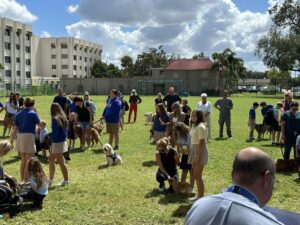 As Father Clemente went through the crowd of students, parents and parishioners, each animal was blessed with Holy Water. The students shrieked with delight when the Holy Water blessed their animals, one student with a toothy grin said, as she hugged her furry dog, "So happy!"
At St. Ann Catholic School in Naples, Pastor Father William Davis, OSFS, blessed a wide assortment of animals, including a horse.
Similar animal blessings took place throughout the Diocese, with many Parishes opting to host the blessings during the preceding or following weekend.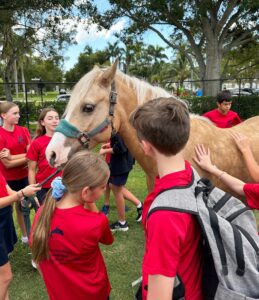 For example, at St. Peter the Apostle Parish in Naples, Pastor Father Gerard Critch led a blessing on Oct. 7, with a large crowd of people, as well as their furry, feathery and scaled companions.
At Epiphany Cathedral Catholic School in Venice, for the Feast Day, kindergarteners made bird feeders in honor of St. Francis.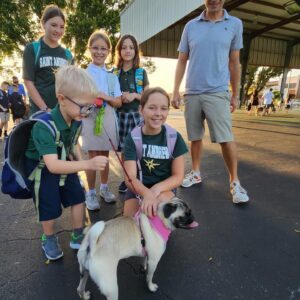 In addition, at Bishop Verot Catholic School in Fort Myers, members of the St. Francis of Assisi House were allowed to have a "dress out" day, where they wore the house colors in place of their regular school uniform. The house system allows students in each grade to foster a sense of community while participating in various school activities as a unified group.