The Venice Diocesan Council of Catholic Women (VDCCW) took time out to recognize and honor the priests who serve throughout the Diocese.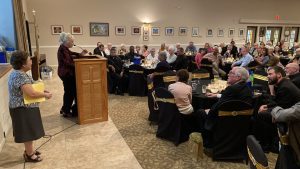 During a VDCCW Priest Appreciation Dinner on Sept. 16, 2022, at Our Lady of Lourdes Parish in Venice, the members pledged to focus on better supporting the priests as they continue to serve the people of God.
'You have no idea what you mean to us," said Josephine Weiss, VDCCW President. "On behalf of the CCW, allow us, the people that love and support you, to minister to you. Let us know what you need. We really want to be there for you."
The priests who were present for the dinner, both active and retired, came forward to be individually recognized. Each shared their appreciation for the role the members of VDCCW play in support of them, their Parishes and the Diocese as a whole.
Bishop Frank J. Dewane thanked the VDCCW members for all that they do in support of priests through their prayers and actions, adding "so much takes place that could not happen without the dedication of the CCW. This type of event means so much."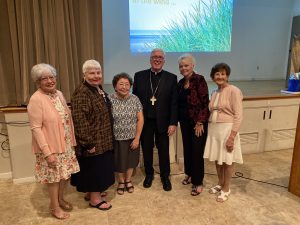 Ellen Bachman, Past-Co-President of the VDCCW, reflected upon how a priest hears a call from the Lord to serve, and in doing so, he touches the lives of the faithful in many ways and that it is all our responsibility to ensure that they know they are appreciated.
"Thank you for all you do for God's people," Bachman said. "You will never know how important you are in our lives."
The priests were asked to come forward to receive a token of appreciation and reflect upon what they may not have learned from seminary that was important in the priesthood.
Many spoke about how they learned much in the classroom but something they couldn't discover there was the profound goodness of the people of God.
A second VDCCW Priest Appreciation Dinner will take place 6 p.m. to 9 p.m., Friday, October 7, at Our Lady of Light Parish, 19680 Cypress View Drive, Fort Myers. The dinner is $45. For those interested in attending, please contact Ellen Bachman at 941-721-7393 or pennyln99@aol.com.