Bishop inspires students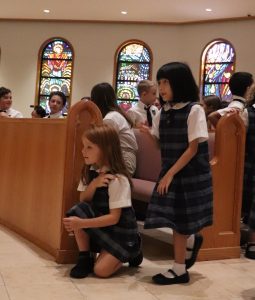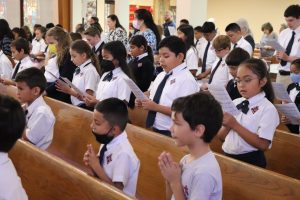 Bishop Frank J. Dewane inspired students to use the Gifts of the Holy Spirit during Mass on Sept. 16, 2022, at Epiphany Cathedral Catholic School in Venice, and then on Sept 19 at St. Catherine Catholic School in Sebring. Bishop Dewane told the students how they need to work to hear a call from the Lord and respond in a particular way, using those Gifts of the Holy Spirit.
Naples student earns Do the Right Thing Award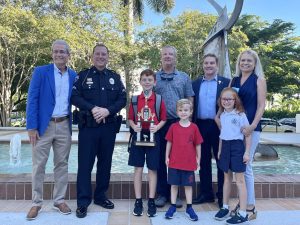 Congratulations to St. Ann Catholic School fifth Grader Nicholas Radosti for winning the 2022 Do the Right Thing Award, awarded by the Naples Police Department. Nicholas was nominated for this award because of his kind and honest heart. One day during Mass, Nicholas saw a teacher drop money on the ground. Nicholas made sure to find the teacher right when Mass ended and give the money back to her. Nicholas is a kind person who is filled with honesty and integrity.
Neumann reaccredited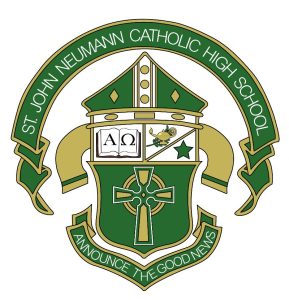 St. John Neumann Catholic High School in Naples has been reaccredited by the Florida Conference of Catholic Bishops. The reaccreditation process included a Sept. 16, 2022, visit to the campus and an evaluation of the courses and programs offered at Neumann following state and national Catholic education guidelines. Each Diocesan Catholic school in accredited and the reaccreditation process takes place every seven years.
Student Bibles blessed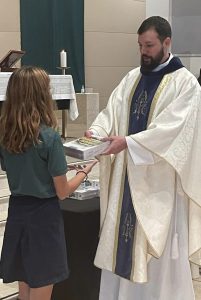 Sixth grade and new middle school students at Incarnation Catholic School in Sarasota were presented personal Bibles following Mass on Sept. 13, 2022. Father Eric Scanlan, Pastor at Incarnation Parish, blessed the Bibles and encouraged the students to not just read the words, but grow to understand what the Lord teaches in Sacred Scriptures and then use the lessons learned in their daily life.
Read a book, build a robot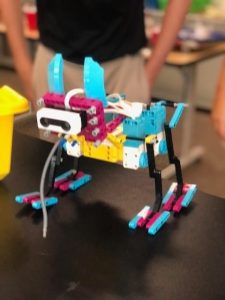 Students in a St. Martha Catholic School language arts class read Ray Bradbury's dystopian novel "Fahrenheit 451," as part of the STREAM (Science, Technology, Religion, Engineering, Arts and Math) curriculum which enhances the educational experience for students in multiple disciplines. As part of that curriculum, the Sarasota students engineered robotic dogs out of Lego bricks on Sept. 16, 2022. The dogs are based on the robotic dog featured in the novel. The students' robot dogs were more cute than vicious, but they had a great time with the challenge!
Eagle Run a success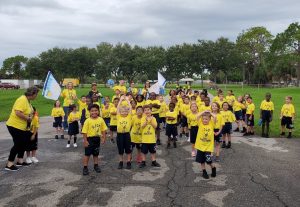 St. Joseph Catholic School in Bradenton held its annual Eagle Run on Sept. 16, 2022. This fundraising event was a huge success as students of all ages participated in the run as well as other related activities all in support of the school. St. Joseph officials thanked the parents and community for their continued support of the school and this 2022 Eagle Run.
Verot celebrates homecoming in style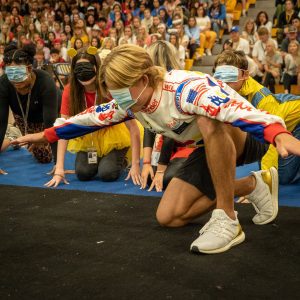 A weeklong celebration led up to the Bishop Verot Catholic High School football Homecoming Game Sept. 16, 2022, versus Gulf Coast High School in Fort Myers. The Vikings won 27-14. Prior to the game, the students participated in a variety of fun activities to boost the excitement for the students. This included a Spirit Day, fun and games and several dress-down days and competitions between boys and girls, the various houses, and grade levels, in the courtyard and gymnasium. A key component was schoolwide Mass.
School raises awareness about cancer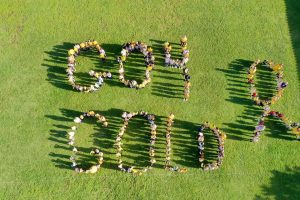 Epiphany Cathedral Catholic School in Venice took time out on Sept. 15, 2022, to raise awareness and support for pediatric cancer. Donations will be given to the Children's Cancer Center. Thank you to everyone who donated. Please keep all those currently battling cancers, and those in remission, in your prayers. Local businesses donated items which were then used in a raffle to raise the money.
Model UN team excels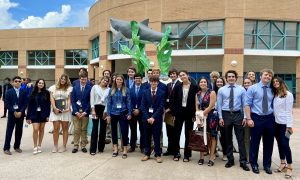 The weekend of Sept. 17-18, 2022, the St. John Neumann Catholic High School Model U.N. group competed in the SharkMUN conference at Gulf Coast High School. Seven schools were represented, and the Neumann team came away with the Best Delegation Award. Five members of the team received individual awards: Bella Fernandez, Alessio Cirino, Mason Wagner, Jake Marks and Hunter Lund.