With a deafening cheer, a blast of confetti and the tossing of dirt, ground was broken on the new St. Charles Borromeo Catholic School gymnasium and Center for Science and Engineering building on May 10, 2023, in Port Charlotte.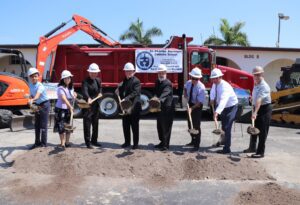 Students were excited as Bishop Frank J. Dewane led the ceremony, blessing the ground as he, and others, joined in breaking ground on the project with ceremonial gold shovels.
What was once thought to be impossible has been made possible through prayer, determination and sharing of the treasure of many supporters with their love for education so that others may benefit from it, exclaimed Father John Fitch, Pastor of St. Charles Borromeo Parish.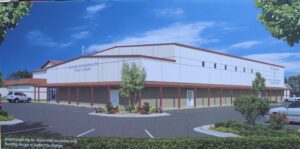 "It's an exciting day. We have been working on this for years. Some people have been talking about a gym here since the 1990s," Father Fitch said. "Today we thank God for the gift of the resources for the gymnasium and Center for Science and Engineering. We ask that this building be entrusted with education and that is to bring the joys of discovery and wisdom with the truth of the Gospel."
Bishop Dewane acknowledged that the gym project had been around for a while and credited the steadfast efforts of Father Fitch and Principal Tonya Peters to help make the project become a reality as he stood in full support. He added that he pushed to get classrooms added to the original concept to ensure the new building would not only support the growth of body, but also the mind.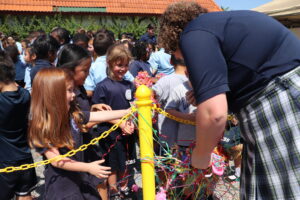 "Many made this possible through their kindness, goodness, and their concern for you as students here at St. Charles Borromeo. So, I want to thank all who worked hard on this. It is what was needed to be done," the Bishop said.
"Grant that the work that we begin may serve to better the lives of all the students who pass through St. Charles Borromeo and through your goodness continue to spread the Kingdom of Christ," Bishop Dewane concluded before blessing the ground with holy water. Father Fitch did likewise.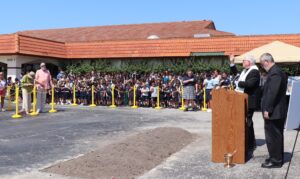 Dozens of parents and school supporters stood in the hot sun on the muggy day for the groundbreaking ceremony, something Father Fitch noted in his remarks. "I know it's very warm out here but that's why we are building a gym because it is even worse when it's raining in August," he said.
Joining Bishop Dewane, Father Fitch and Principal Peters for the groundbreaking were Diocesan Superintendent of Catholic Education Father John Belmonte, SJ; Diocesan Buildings Director Joe Rego; John Prahl, founder of Canco Construction, the project contractor; as well as David Hunt, a sixth grader who represented the students.