Religious sister, longtime educator, dies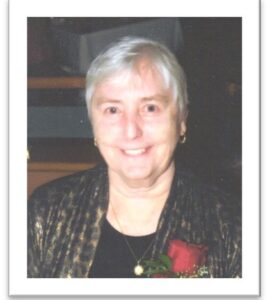 Sister Gloria Hillman (Sister Rita Joseph), of the Dominican Sisters of Hope, died on April 10, 2023. She was 88 years old. Born in Brooklyn, N.Y., Sister Gloria entered the novitiate of the Dominican Sisters of Newburgh, N.Y., in September 1953. She made her First Profession in June 1955, and Final Profession in August 1958. Sister Gloria earned degrees from Nazareth College, Rochester, N.Y., Catholic University, Washington D.C., and Fairfield University, Connecticut. Sister Gloria's ministries included education and pastoral care. She taught at schools in Paterson and Camden, New Jersey; New Haven and Danbury, Connecticut; and Raleigh, North Carolina. It was in 1975 when she started teaching religious education at a Parish in Hawthorne, N.Y., before moving to Florida. Sister Gloria was Director of Religious Education at St. Thomas More Parish in Sarasota from 1981 to 1991, and Religious Education Teacher at Our Lady of Mercy Parish in Boca Grande from 1991 to 1994, as well as a substitute teacher at Cardinal Mooney Catholic High School in Sarasota from 1992 to 1994. She served as Director at Manasota S.O.L.V.E. Inc. pregnancy resource center in Bradenton from 1994 to 1998, before returning to assist at St. Thomas More Parish from 1998 to 2001. In her later years, Sister Gloria ministered to the elderly in the Sarasota area. Sister Gloria is survived by her sister, several nieces, nephews, great-nieces and great-nephews. A funeral took place April 22, 2023, at St. Thomas More Parish in Sarasota.
Students pack meals for needy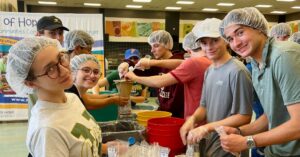 National Honor Society & Key Club members from St. John Neumann Catholic High School in Naples participated in the annual Meals of Hope Packing Drive on April 29, 2023. Club moderators Susan Cavness and Denise Szedely led the students during the packing event. Meals of Hope operates 15 food pantries in Southwest Florida and their packing events help bring food to the needy both locally, nationally and globally.
Students build cathedrals in science class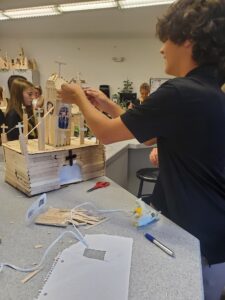 The total learning experience was on display in the 8th grade science class of Cindy Neunder at St. Martha Catholic School in Sarasota. During late April 2023, students put in a lot of time, effort and teamwork to create their beautiful Gothic cathedrals. The objective of this project was to foster a love of our Church history, incorporate fortitude and beauty as Gifts of Christ, and nurture a better understanding of the engineering process. The results were impressive.
Rocky science project surprises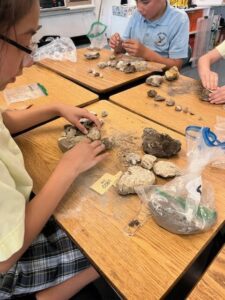 It is amazing what one can find when walking around outside. As part of the rocks and minerals units for the St. Joseph Catholic School 4th grade class of Blaire Hamric the students took a rock walk on April 28, 2023. While on the walk, the students collected rocks and then later washed and sorted them into categories. Using tools like sandpaper, the students then examined each rock's texture and appearance and then reported on their findings.
Happy Teacher Appreciation Week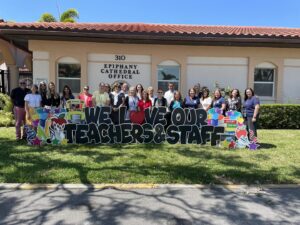 The Home and School Association at Epiphany Cathedral Catholic School in Venice kicked-off "Teacher Appreciation Week" with welcoming signs and refreshments on May 1, 2023. This was also Principal Appreciation Day, so Principal Nicole Loseto was give the royal treatment.