Retired religious priest dies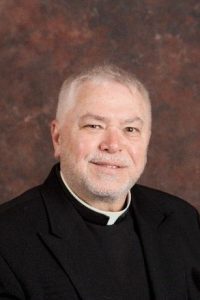 Father Joseph P. Jocco, Oblates of St. Francis de Sales, a retired priest who assisted at St. Ann Parish in Naples and Bishop Verot Catholic High School in Fort Myers, died on Dec. 24, 2022. Father was born in Chicago and served in the U.S. Navy as corpsman prior to entering the Oblates of St. Francis de Sales, professing his first vows in 1977. He was ordained a priest on June 9, 1984. Father Jocco worked in a variety of ministries in secondary education in Philadelphia, Wilmington, Delaware, Daytona Beach, and at Bishop Verot in Fort Myers. He was also the Vocation Director for the Wilmington-Philadelphia Province and Superior of the Salesian community at Parishes in Philadelphia, Robesonia, Pennsylvania and St. Ann Parish in Naples. Father Jocco is survived by several brothers and sisters, as well as many nieces and nephews. A Mass of Christian Burial was held Jan. 3, in Childs, Maryland, with burial following in the Oblate Cemetery.
Bishop celebrates Feast Day Mass in Naples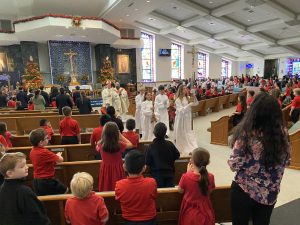 Bishop Frank J. Dewane celebrated Mass on the Feast of St. Elizabeth Seton (Jan. 4, 2023), at St. Elizabeth Seton Parish in Naples. The Mass included the participation of the students from St. Elizabeth Seton Catholic School. Bishop Dewane encouraged the students to learn about their patroness who served as an example to follow in how she answered a call from the Lord and helped launch Catholic education in the United States.
Mooney starts equestrian club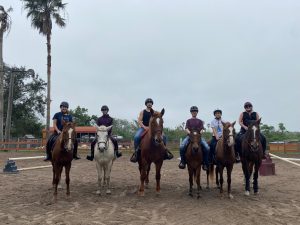 Adventure awaits students in Cardinal Mooney Catholic High School's newest club! The first outing for the Equestrian Club was Dec. 10, 2022, at a local dressage stable, where students learned about horse safety, grooming, and horse care. Members saddled up the beautiful horses at Rosaire's Riding Academy to learn the basics of riding so that they can go on future trail rides together. The Equestrian Club also had fun hearing presentations by fellow Mooney students that compete in horse shows on the events that comprise equestrian sports – show jumping, hunter trails, and dressage. The next goal is a ride at the beach! The new Equestrian Cub was founded by sophomore Marianna Cardona Ortiz.
Catholic Charities Christmas Appeal continues

The 21st Annual Catholic Charities Christmas Appeal is continuing through January 2023. A donation to the Appeal strengthens Catholic Charities ability to provide much-needed support, for those recovering from Hurricane Ian, or who need any type of assistance in the region. This outreach is accomplished through more than 35 programs in locations throughout the 10-county Diocese. These programs annually support more than 100,000 individuals and families in ways both large and small. To support the Christmas Appeal, please visit www.catholiccharitiesdov.org or mail a contribution to Catholic Charities, Diocese of Venice, Inc., 1000 Pinebrook Road, Venice, FL 34285.
Time running out for hotel rooms for Eucharistic Congress
The two-part Diocese of Venice Eucharistic Congress and Youth Rally is coming March 24 and 25, 2023, to the Conference Center and Luminary Hotel on the riverfront of downtown Fort Myers. The Eucharistic Congress Youth Rally is 5 to 10 p.m., Friday, March 24, 2023, while the main Eucharistic Congress for adults is Saturday March 25. Exciting speakers and musicians are scheduled for these two events. Both events will include Eucharistic Processions and the opportunity to grow closer to the Lord through the Blessed Sacrament. Visit https://dioceseofvenice.org/eucharistic-congress/ to register and for additional details. For those wishing to spend the evening of the 24th or 25th at the Luminary Hotel, the deadline to obtain a special rate is closing soon, please make your reservation by visiting https://www.marriott.com/event-reservations/reservation-link.mi?id=1658159545793&key=GRP&app=resvlink.