Ordinary Time has come to an end and the Season of Advent is upon us. This Season, which marks the beginning of the Church's Liturgical Year of the Church, commences on Sunday, Nov. 29, 2020 and will come to an end on Christmas Eve, Dec. 24.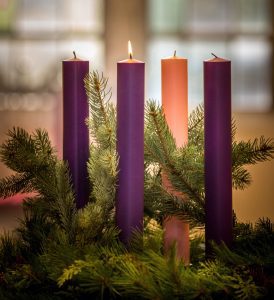 Advent is a time of preparation and expectation. The Church describes Advent as a season "of devout and expectant delight." In Universal Norms on the Liturgical Year, the Church says, "Advent has a twofold character, for it is a time of preparation for the Solemnities of Christmas, in which the First Coming of the Son of God to humanity is remembered, and likewise a time when, with remembrance of this, minds and hearts are led to look forward to Christ's Second Coming at the end of time" (39). In Advent, we look forward not only to the commemoration of Christ's birth at Christmas, but also to His return.
Pope Francis described Advent as the time "we begin again and it returns us to the horizon of hope, a hope that does not disappoint because it is founded on the Word of God. A hope that does not disappoint, simply because the Lord never disappoints! He is faithful," just as we are called to be faith-filled, thus faithful."
Hope is needed during this ongoing COVID-19 Pandemic. Bishop Frank J. Dewane said it may become easy feel down and isolated because of restrictions necessitated by the Pandemic. This may cause the spiritual preparation, to which each of us is called during the Advent Season, to slip through the cracks.
"Staying focused on Advent is critical," Bishop Dewane said. "As a unique Liturgical Season, Advent is a time for prayer and reflection. Therefore, it is doubly important to follow the lead of our ancestors who prepared their hearts spiritually for Christ, so must Advent prepare us for the Second Coming of Christ and that presence in our daily life."
Those who have returned to their Parish for Mass and other activities should consider taking part in Daily Mass for the readings build up to the joyous celebration of Christmas. For those who remain home, consider watching a livestreaming Mass, or, if that is not possible, follow along with the daily readings through the Magnificat or the Bible.
One symbol popular in Churches for this Season is the Advent Wreath. By tradition, it is often found either in the narthex (gathering area) or, as is more common, near the ambo of a Church. Having a wreath in the home can be a unifying symbol for families. The liturgical color of Advent is a particular shade of purple, a color which is most often associated with royalty. This color is used to symbolize the anticipation of the birth of Christ, who is our King and Savior.
Each Sunday of Advent, an additional candle of the wreath is lit, with the rose-colored candle lit on the Third Sunday of Advent. This Sunday, best known as Gaudete Sunday, derives its name from Scripture: "Gaudete in Domino semper" ("Rejoice in the Lord always"), and marks the mid-point in the Season. The change in color provides encouragement to rejoice as we continue our spiritual preparation – especially prayer and fasting – for Christmas.
To help prepare for the Nativity of Our Lord and Savior, one should find time to pray each day. Pray for those, and with those, you love. Whether in person or via a virtual connection, praying together gives one strength. Remember to also pray for your Parish and the Diocese, as well as for all those who are suffering during this most challenging time. Prayers should intensify as one gets closer to Christmas. Particular prayers are provided by the Holy Mother Church (called the O' Antiphon and readily available online) for the period of Dec. 17, 2020 to Christmas Eve, which uniquely prepare us for the coming celebration.
Advent Season is also a great time to prepare one's soul for the birth of Christ by taking advantage of the Sacrament of Reconciliation. Many Parishes offer special times during Advent for the celebration of the Sacrament of Reconciliation. Contact your Parish for details and times.
Finally, this is a perfect time to deepen one's knowledge of the Faith. Review the Catechism of the Catholic Church, read the Bible, listen to inspirational speakers online. By living one's Faith more fully, and sharing it with those around us, it will allow one to make Advent a worthy preparation for the coming again of Christ into the world.