Retired priest dies
Father Arthur Schute, a retired priest who served as Director of Pastoral Care at Bon Secours – St. Joseph Hospital in Port Charlotte from 1997-2005, died Dec. 5, 2020 at the age of 78. Father Schute was ordained to the priesthood on Dec. 21, 1967 to the Archdiocese of Newark. He was a graduate of Pontifical Gregorian University in Rome. Following his retirement in 2005, he continued to assist at Parishes in Charlotte County and was living in the area at the time of his death. Funeral services will be 11 a.m., Dec. 12, 2020, St. Maximilian Kolbe Parish, Port Charlotte. Please pray for the repose of the soul of Father Schute and for consolation of his family.
Christmas Day Television Mass for the Homebound
The televised Christmas Day Mass for the Homebound with Celebrant Bishop Frank J. Dewane will air for a full hour on Christmas Day. For viewers in the northern portions of the Diocese (DeSoto, Hardee, Highlands, Manatee, and Sarasota counties), the Mass will air at 9:30 a.m. on the CW Network. In the southern portions of the Diocese (Charlotte, Collier, Glades, Hendry, Lee counties), the Mass will air at 8:00 a.m. on WFTX-TV (FOX-4). Please check your cable provider for channel listings. Leaflet missals are available upon request by calling Gail Ardy at 941-486-4714 or by writing: TV Mass, Diocese of Venice, 1000 Pinebrook Road, Venice, FL 34285. For more information email ardy@dioceseofvenice.org.
"A Seminarian Story" third installment available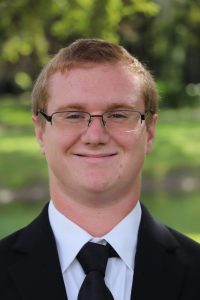 The Diocese of Venice in Florida Office of Vocations recently launched a video series titled, "A Seminarian Story," to celebrate the 16 Seminarians currently in formation. The first three videos have been released and more will follow approximately every two weeks. The most recent video is about Seminarian James Gates who is discerning his vocation at St. John Vianney College Seminary in Miami. Developed with the assistance of the Diocese Communications Department, the goal of the series is to inspire others to follow in the path to the priesthood or religious life, as well as encourage the faithful to continue to support the seminarians as they continue their formation process at different seminaries. "A Seminarian Story" featuring James Gates can be found at https://vimeo.com/445659054.
Prayer vigil held to halt executions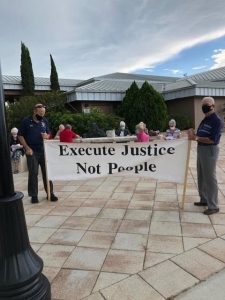 Members of all five Charlotte County parishes participated in a prayer service on Nov. 30, 2020, outside Sacred Heart Parish in Punta Gorda. The event commemorated the worldwide "Cities for Life, Cities Against the Death Penalty" annual observance. Special prayers and a rosary were offered for an end to the use of the death penalty, for all those on death row and for victims of violent crime.
Students help serve meals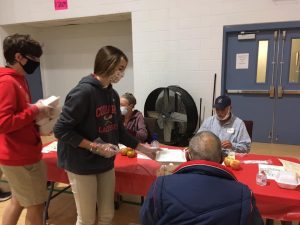 Some 20 Cardinal Mooney Catholic High School students helped set up, serve, and breakdown the 20th Annual Sarasota Ministerial Association Feed the Homeless Thanksgiving Lunch on Nov. 25, 2020. This was the ninth year during which students from Cardinal Mooney volunteered.
Parish helps spread Christmas cheer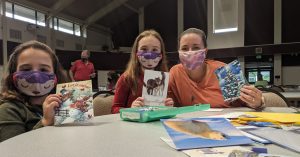 Our Lady of Light Parish hosted its annual Service Morning on Nov. 22, 2020 with families and children gathering to make Christmas cards to send overseas for our military as well as Christmas candy jars for local foster children.
Door decorating contest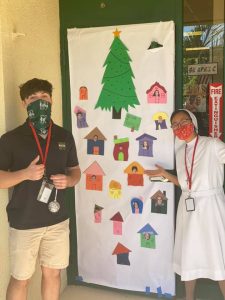 Sister April Hoffman, a Salesian Sister of St. John Bosco, is seen with a student in front of a decorated door at St. John Neumann Catholic School in Naples on Dec. 3, 2020. The door are decorated for the holidays and part of a school-wide competition.
Mass at Dawn (Simbang Gabi or Misa de Gallo)
The Mass at Dawn will take place at 6:00 a.m., December 15 – 23, and at 7:30 a.m. on Sunday, December 20 at St. Maximilian Kolbe Parish, 1441 Spear St., Port Charlotte. All are welcome to attend each day or when you are able. This Mass comes from the Catholic custom of gathering for celebration of the Eucharist in predawn hours in the nine days before Christmas. Masks are required. Please call 941-661-8335 for further information.
"What is Catholic Theology?"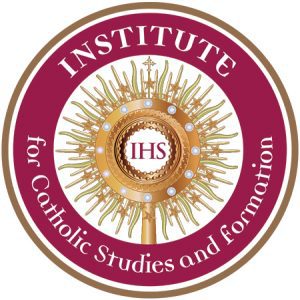 The Institute for Catholic Studies and Formation is offering a 16-week online course starting Jan. 11, 2020 that introduces students to the principles, practices, and sources of Catholic Theology. The course "What is Catholic Theology? [Ecclesial Nature and Mission of Theology]" counts as a pre-requisite for those beginning the online MA Program in Theology and Christian Ministry at Franciscan University of Steubenville. Anyone interested in a graduate-level introduction to Catholic Theology is welcome to attend for a discounted price. The course is taught by Dr. John Gresham, Executive Director of the Institute, who brings 20 years of experience teaching at Franciscan University of Steubenville, Kenrick-Glennon Seminary in St. Louis, and Sacred Heart Major Seminary in Detroit. For more information, or to register for the course, visit the website of the Institute for Catholic Studies and Formation https://institute-dov.org/ and click on the link to COURSES. For other information, contact Dr. Gresham by email john.gresham@institute-dov.org or phone (941) 766-7334.
Help Your Parish
Parishes face increased risk of financial shortfalls due to the Coronavirus Pandemic and its effects on everyday life. Parishes depend on weekly financial gifts to continue their ministries, especially in this critical time of crisis. Please prayerfully consider an online donation to your parish by visiting https://dioceseofvenice.org/ways-to-give/parish-donations-online/. You may also contribute through your usual channels (e.g., envelopes, and through the Parish online giving option). Together we will navigate through this Pandemic, aid those in need, and secure the road ahead for the Parishes within the Diocese of Venice. Please continue to pray for the repose of the souls of those who have died from Coronavirus, for the recovery of the sick, for the strength of healthcare workers and caregivers, as well as for an end to this health crisis. Thank you for your generosity.
Do You Need Help?
If you need assistance from Catholic Charities for food, financial assistance, or tele-mental health counseling, please call the number for your area listed below between the hours of 9:00 a.m. and 5:00 p.m., Monday to Friday:
*  Sarasota/Manatee/DeSoto/Hardee/Highlands counties: 844-385-2407
*  Charlotte/Lee/Hendry/Glades counties: 844-385-2423
*  Collier County: 844-385-2404.