There is still plenty of time to prepare for the birth of Christ at Christmas as well as for His anticipated Second Coming. The Advent Season is an ideal opportunity to pray and ask Christ to help us in areas of life that need improving.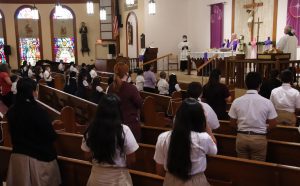 Bishop Frank J. Dewane shared this wisdom on Dec. 4, 2020, during Mass for students at St. Catherine Catholic School in Sebring.
While the Church must look different during the Advent Season – with a wreath and purple the dominant color – the Bishop told the students that they need to be different in their hearts during this Season.
"You have to ask the Lord for mercy and healing," Bishop Dewane said. "We have to have the belief in our lives that Jesus Christ will do for us what we need. This is done through prayer. We can all live a better life with the guidance and support of Jesus Christ.  We are asking Christ, through prayer, to help us in areas of our life where we need improvement. By praying, you remain faithful in Christ."
The Bishop reminded the students that; as with any friendship, the more one communicates, the closer they will become. This is particularly true with one's relationship with the Lord.
With that in mind, the Bishop challenged the students to call out to Jesus in prayer for direction and comfort as they prepare for Christmas and the Second Coming. "You need to pray more often. Can you do that this Advent Season?" An enthusiastic "Yes!!!" was the response.
This was the latest in a series of Masses Bishop Dewane is celebrating at Diocesan Catholic Schools. In a normal year, these Masses are focused on the beginning of the academic year, but Bishop Dewane told the students in Sebring that circumstances of the COVID-19 Pandemic forced his schedule to be altered.
"My visit is usually to encourage you in the coming year," Bishop Dewane said. "However, it is an honor to be here during the Advent Season, when the Church Year begins, and we joyfully prepare for the arrival of Jesus Christ."