The recently completed Casa San Alfonso affordable housing community with 21 single-family homes in Zolfo Springs was blessed by Bishop Frank J. Dewane on Sept. 28, 2023.
"Housing continues to be a vital concern and need for people throughout Florida," Bishop Dewane said. "We're pleased to support Zolfo Springs with affordable rental housing that will provide comfort and a sense of belonging for local residents."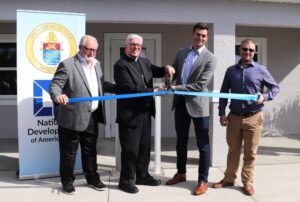 The Diocese of Venice partnered on the project with National Development of America, Inc., and supported by Zolfo Springs and Hardee County.
"We're very grateful for our partnership with the Diocese of Venice and the strong support from county and city officials to help bring this project to fruition," said John Raymond, director of real estate for National Development of America. "Casa San Alfonso is the perfect example of how a community can come together to achieve something impactful."
Zolfo Springs Mayor Rod Cannon was overjoyed by the project and complimented the quality of the work noting that there were nearby tracts of land available if the Diocese was interested in expanding the project.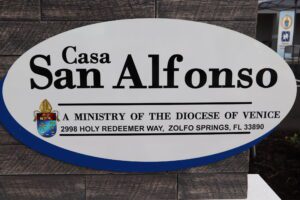 "This is beautiful. I am really overwhelmed by it," Cannon said. "I have been excited about this whole project from the moment I learned about it to this day. We are blessed to have it, especially as it is available to families who might not have any other housing options in our community."
Justin Smith, with the Development Group in Hardee County, said the county initially did not have a policy in place to support affordable housing but was able to back the housing project through grants to help make the finances work.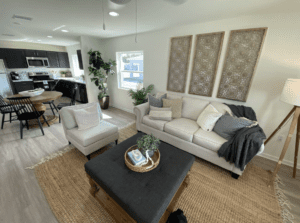 During the ceremony, Bishop Dewane offered a special thank you to the faithful of St. Michael Parish in Wauchula for their support of the project. Casa San Alfonso is located on repurposed land that was once used as a Mission of St. Michael.
Representing the Parish at the ceremony were Father Wilner Durosier, CS, Father Juan Lorenzo, women religious of the Servant Sisters of the Blessed Virgin of Matara, as well as many of the faithful.
Father Durosier said he was excited about the project and promised to promote the housing opportunities to the faithful.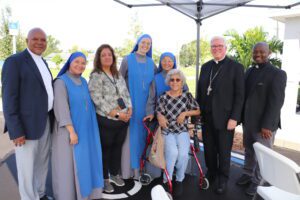 The Diocese of Venice and National Development embarked on Casa San Alfonso in 2020 to address the growing demand for affordable rental housing in Hardee County. Additional affordable housing projects within Hardee County are already in the development process.
National Development of America will manage Casa San Alfonso which will provide affordable housing for qualified residents – those who make 50-60% of the Average Median Income. Monthly rents range from $673 to $976.
The community features 17 – 4 bedroom, 2 bathroom homes, and 4 – 3 bedroom, 2 bathroom homes, complete with new appliances. Amenities include an onsite clubhouse with a computer lab, and charming walking trails throughout the neighborhood, which is situated on a large outdoor greenspace of 12 total acres.
Casa San Alfonso is now leasing. Interested applicants should submit a leasing form at form.jotform.com/231163616210140 or email alfonso@ndcassetmanagement.com for more information.