At the age of 54, Transitional Deacon Mark Harris may not fit the typical profile of what one would expect from a soon-to-be ordained priest, but his deep faith has prepared him for this moment.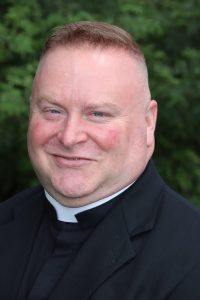 It was in first grade when Deacon Harris proclaimed he was going to become a priest. "We were all asked what we wanted to do with our lives. That was my answer," he said with a smile. "I was reminded of that moment by my family when I made the announcement of my intention of entering seminary. The idea of becoming a priest was always floating around and pulled at me at times in the intervening years before I finally answered the call."
Transitional Deacons Harris and Alexander Pince have both answered that call to a vocation to the priesthood and will be ordained by Bishop Frank J. Dewane at 11 a.m., Saturday, July 31, 2021 at Epiphany Cathedral in Venice.
Before entering seminary, Deacon Harris worked at various marketing and corporate jobs including interior design, marketing and career development. Through the years, he explained how he would have profound spiritual moments when he was comforted by or connected to the Lord in a particular way.
"They were private moments that really impacted me and opened my eyes to the Lord in new ways," Deacon Harris said.
These experiences helped to guide his life into changing careers and eventually becoming an elementary school teacher in the Charlotte County School District. While he loved teaching, he realized, in his heart, that it wasn't the right fit.
"It was while teaching when I felt I had to compromise who I was, as a faithful Catholic. That caused me to reevaluate the course of my life and I decided to focus on serving the Catholic Church," he said.
This realization caused him to start volunteering at Sacred Heart Parish in Punta Gorda, first as a Eucharistic Minister and then as a catechist assisting with the Faith Formation Program, Youth Peer Ministry and Core Adult Ministry Team.
These experiences solidified his resolve to do more in service of the Lord and led him to enter the seminary. That process included first talking with a priest mentor from Miami where he spent many of his formative years. He eventually approached the Diocese of Venice and Bishop Frank J. Dewane to inquire about becoming a Diocesan seminarian.
Born in Miami, Deacon Harris spent part of his childhood alternating between living in Florida and Connecticut. He was primarily raised by two aunts, Nancy Haizlip and Donna Storey. He earned degrees in Commercial Art and then Business Marketing and Management from Florida Metropolitan University, before earning a Master's in Education from Sacred Heart University in Fairfield, Conn.
After being accepted as a Diocesan seminary in 2017, he was sent to begin his intensive formation and studies at St. John XXIII National Seminary in Weston, Massachusetts, which is committed to the human, spiritual, academic and pastoral formation of candidates aged 30 and older. He graduated in May.
While a seminarian for the Diocese, Deacon Harris served summer assignments at Epiphany Cathedral, Our Lady of Lourdes Parish in Venice and Resurrection Parish in Fort Myers.
As his July 31 ordination approaches, Deacon Harris said he is nervous but excited at the same time. "This has been a long journey and I feel blessed to have been chosen to serve God through the priesthood."
Please pray for Deacons Harris and Pince as they approach their priestly ordination.
Check back in the July 23 e-Edition of The Florida Catholic for the vocation journey of Deacon Pince.